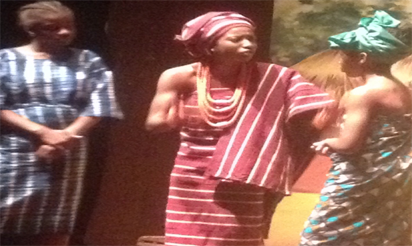 By Prisca Sam-Duru
It was yet another exhilarating experience at the MUSON stage Onikan, Lagos last week during the annual stage performance of the Childville School, Ogudu, Lagos.
Being 8th in the series and what was a clear drifting from their usual re-enactment of plays that promote various cultures and traditions of the diverse peoples of Nigeria, this edition titled  Moroutodun, as timely as it was, spoke to the plight of the masses due to bad governance.
Commendable is the consistency and amazing acts by the students who have since inception of the annual performance re-enacted classics such as Professors Chinua Achebe's  Things Fall Apart, Zulu Sofola's  King Emene, Ola Rotimi's  The gods Are Not To Blame, Wole Soyinka's  Death And The King's Horseman, etc.
Moroutodun  was written by one of Nigeria's veteran playwrights, Prof.  Femi Osofisan and directed by Mr Gboyega Gbiletan Jerome. The play reflects the 1965 Agbekoya revolution by poor farmers against politicians and bad government.  Moroutodun  in an exciting manner brings to the fore the contributions of women in nation-building and conflict resolution.
The curtain opens on  Moroutodun  with a drama directed by Daniel Eta, depicting the hardships experienced by poor farmers in Agbekoya. Simultaneously, the farmers are protesting high taxation without dividends.
The major character in the play, Titubi, played by Ashely Mene and Olohita Isoze, a spoilt daughter of the most influential woman in the area, together with her followers are bent on disrupting the play with the belief that the actors are selling dangerous ideas to the protesting masses.
Her plan fails. After discussions with the Deputy Superintendent who has been on trail of the protesters' leader, Marshall (Iniubong Ini-Inyang), Titubi agrees to work with the police to achieve her aim. She disguises as a prisoner, and after her release by the same protesting farmers she is fighting against, she goes undercover. Her encounter with Marshall earns her the name Morountodun and the rest of the tragic act couldn't have been more spellbinding. The climax of the play is an indication of the need for a government with a human face as Titubi discovers the extent of the people's sufferings and intervenes.
Speaking shortly after the play, Iniobong (Marshall) who was excited with the outstanding performance said: "I've been acting for four years straight and it's been a wonderful experience as it's my first real major role and I'm thankful for the opportunity to showcase what I have.
"We are trying to tell a story. If you look at what's happening in Nigeria, some people in positions are looting tax payers' money instead of using it to develop the country. You can see from the storyline that the farmers, just like Nigerians, are protesting that if they must pay tax then they must benefit from it," said the Artistic Director of  Moroutodun,  Mr Gboyega Jerome said.
He added that "the essence of bringing this story on stage now is to look at the past scenarios that shaped some of our histories and then look at how it can help us solve some of our challenges."
On whether the government is close to the people enough to know how much suffering they're going through considering that it took the main character Titubu, an experience with the farmers to know their plight, Mr. Jerome said "I believe that any responsible government should know when it's people are suffering like we are now and it is their duty to make sure that they put in more efforts to make everyone satisfied. This is why I'm recommending the play to everyone and it's going to be on YouTube."