*Talks about his banging single 'Santiago Milano"
By JULIET EBIRIM
Fast rising artiste, Evans Ambakederemo popularly known as Evih of Tycoon Entertainment is set to take the music industry by storm. In this interview, the Delta State born, final year Business Administration student of the University of Benin shares his hopes and plans, his new single 'Santiago Milano', as well as what makes him tick as an artiste. Read on…
How would you describe your kind of music?
I don't have a particular type. I'm an all-rounder – I do soul, hip-hop ad so on.. I'm a versatile artiste.
What inspires you?
It all boils down to my mood. I might be in church and the pastor says something interesting… like I dropped two singles for my birthday on June 6th. I didn't do much promotion, but I know it will make wave. A lot of people can relate to the songs. They are titled 'Testify' and 'Life'. So, I draw inspiration from everything around me and my mood too.
What's your impression about the Nigerian music industry?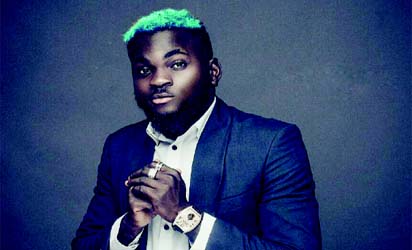 The industry is going viral. Everyone wants to be in the Nigerian market musically. Everyone wants to feature in it. Shout out to Davido, Wizkid, Tiwa Savage and others who have made huge impact. We will build on the legacy they've set.
Given the level of talents in the Nigerian music industry, do you think you have what it takes to be relevant?
When you listen to an artiste's song, you can tell if the artiste is going to be a one-time hit-maker or an all-rounder. I don't want to be boastful but my songs are awesome. Most times I just put out songs without really promoting them. If we decide to release each of them as singles, I will probably be on the top three…
How soon do you intend to drop an album?
I'm not dropping an album, because they are under-rated in Nigeria. So I'll rather keep dropping singles. That way I can get worldwide recognition and build my fanbase. I'll be doing more of singles for now, so that eventually when I release an album people will appreciate it more because they know my potentials and that my album will not disappoint.
Who do you look up to in the industry?
I look up to 2Face, because he has remained relevant all these years. He's still topping the charts and yet he's so humble.
What's your take on the kind of songs we have now?
Different songs appeal to different people. Some people sing what I want to hear and some sing what you want to hear. There are feel-good songs for partying and clubbing, and there are soulful songs you can simply relax to after a hard day's work.
So right now, you're basically promoting your new song, Santiago Milano?
Yes, that's what I'm focused on right now. The song is already a hit, it's going viral. I just need to give it the needed push.
Are you in a relationship?
Yes, I am.
Who is an ideal woman to you?
She has to be supportive. I don't like a woman who would always agree or accept everything I say or do. Sometimes she should be able to challenge me and call me to order. I love a woman who can hold her own and stand for herself. Someone who can advise me and talk to me when I'm erring.
Can you date someone in the music industry?
No I can't.
Why not?
It's a matter of choice. There are other fields, she doesn't have to be in the same field like myself, because it can be really boring. I want to hear something different besides what's happening in the music industry. That way we can be better exposed and informed.
When did you start doing music?
I started in 2014. Music has been in me. I've been singing, though not professionally. So in 2014, I went to the studio and I had my first studio session with Baudex. I did some singles then – 'Aya' and 'Give it to me'. I got some positive responses so I kept pushing.
So far, how has it been?
It's been great. Music has been awesome. By God's grace I'll be graduating in August, so I will get to focus fully on music. I have a promising career in music because I right now I go for paid-for shows despite the fact that I'm not too well known.
What challenges have you encountered in the course of doing music as an upcoming artiste?
The major challenge is lack of support. In other climes, upcoming acts are given opportunities to showcase themselves. You see the established acts featuring upcoming ones in their songs. There's room for everyone to excel. I believe if we get to support one another, it will bring about a turn around in the music industry. Take the issue of endorsements for instance, they mostly go to the big acts. There's no room for the upcoming ones, I feel they should be recognised as well.
What are you currently working on?
I've got my new single 'Santiago Milano'. It has a summer beach feeling and a  Shaku Shaku  vibe. It's a feel good song about the place 'Santiago Milano.
Last words?
It's all by God's grace that I'm gradually fulfilling my dreams, because I came from nothing and that's what one of my songs 'Testify' is about.