By Japhet Alakam
Award-winning writer and scholar, Prof. Akachi Ezeigbo, has urged publishers especially the indigenous ones, to emulate the foremost publishers,University Press Plc in their relationship with authors as the company has demonstrated enviable commitment to the building and sustenance of a strong and efficient author-publisher relationship.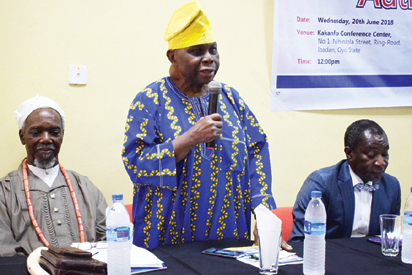 Prof. Akachi Ezeigbo who was saddled with the task of finding a more mutually rewarding partnership between publishers and writers stated this as the keynote speaker at the ninth edition of the Authors' Forum organised by University Press Plc at Ibadan .
Speaking on the topic: Building a partnership that works: The relationship between authors and publishers in Nigeria , Ezeigbowho has seen it all in both categories as a writer and publisher, went down memory lane to narrate the origin of publishing in Nigeria, the different stages of development in the publishing industry and the challenges facing the industry.
According to Ezeigbo who was former Head of English Department at of the University of Lagos, the relationship between most authors and publishers in Nigeria has been fraught with uneasy peace or outright rancour. Most Nigerian writers are not happy with their publishers, they accuse publishers of many things like not keeping to the terms of contract, publishers rob them of their labour, do not market their books very well, do not pay royalties regularly, do not give them the attention they deserve and many others. As such, they look for alternative ways like self- publishing.
At the same time, many publishers also complain of unfavourable working conditions, that Nigeria is not a book- friendly environment, books are not bought, even when government buys in bulk, they do not pay them for a long time; they do not have the money to recruit  and retain good authors etc. And weighed down by these, they fail to discharge their responsibilities to the authors.
Other important challenges facing the publishing industry in Nigeria are piracy and the culture of excessive photocopying which is pervasive in all tertiary institutions and other educational establishments. Students prefer photocopying books to buying them even when the books are available in the market, thereby robbing the authors and publishers of their income.
The nefarious activities of pirates cause huge losses to Nigerian publishers. Sometimes publishers are often distracted from their jobs because they have to spend  valuable time and money  pursing and prosecuting pirates.
She also spoke about recent developments in the industry like self publishing and emergence of digital publications like e.books, which have virtually taken over  the publication and marketing of books in the internet, the advantages and disadvantages too.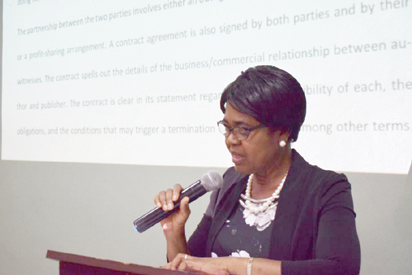 The reality and implication of the above revelation, according to her, is that publishing is endangered and the marketing of books becomes an uphill task or an unprofitable venture.
But, in the midst of all these challenges, one publishing firm stood out as one which makes the difference in the publishing industry and that is University Press Plc. The company has been in the business of providing the conducive environment for writers and the general public.
According to her, "when it comes to a good working relationship with the authors, University Press Plc, is in good standing. It is doing its utmost best to provide training opportunities for its staff and authors in the educational books sector when the need arises. " University Press Plc is one of the very few publishing houses in Nigeria that have a good working relationship with their authors. UP Plc's strategic support for authors, its painstaking efforts to pay royalties regularly have earned it a strong position in the hearts of authors. To cap it all, the company has consistently organised an annual Authors' forum where it brings  together its authors for quality interaction and the forging of alliance, thus giving authors emotional and psychological support as members of one big family."
Earlier in his opening remarks,  Lalekan Are, chairman of UP Plc who reminded the audience of the importance of books, describing books as the link that binds the authors and publishers together, stating that, it was because of that that UP Plc placed high premium on its authors by striving against all odds to make them have commensurable rewards for their books held in trust by the company.
On the way and manner students photocopy books in universities, the speaker was told to use her position as a writer and lecturer to ensure that such no longer obtains. A lawyer, Mr Okorie described it as a criminal offence that requires stricter punishment. But, Dr Are in his characteristic manner, opined that the first set of people to be prosecuted should be the lecturers who sell handouts to students. He also lamented the dearth of reading culture especially among students, pointing out that during their days, students were meant to read up to five novels in a week and later tested and that paid off. But now, it is no longer so and it is affecting their level of thinking.
On his part, Mr Samuel Kolawole, Managing Director of UP Plc, whose task  always stood between the audience and their lunch stated that the forum has come to stay, promising for a bumper edition next year when it will clock 10 and the company turns 70. On photocopying, he also pointed out that REPRONIG, have been on the fight to make sure that authors get paid for every work photocopied, but the tertiary institutions have not been helping matters.