By Peter Duru
Makurdi—FIVE persons have been reportedly killed in two days of sustained hit and run attacks on communities in Logo local government area of Benue State by suspected militant herdsmen.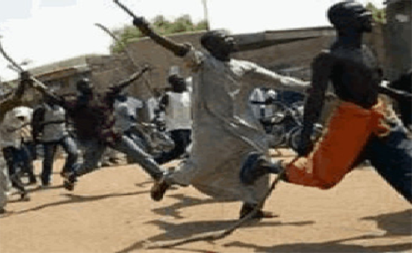 Vanguard gathered that the marauders, who have taken over large expanse of forests in Logo, usually mounted road blocks in the area before killing their unsuspecting victims, retreat and disappear into the forests.
Confirming the attacks, the Chairman of Logo local government council, Mr. Richard Nyajo, said: "The killings in Logo have become a daily affair.
"Last Tuesday, two brothers, Cyprian Tsebo and Jonathan Tsebo both from Mobile barracks – Tombo ward, were ambushed and killed by the militant herdsmen.
"It was followed by the gruesome murder of Luper Abeva at Tse Audu Amo-Tombo ward and Iortumbur Atov at Tse Akombo, Mbaniange Mbagber ward, who was murdered at Barracks.
"And just yesterday, one Gbaden Mondo from Uk/Tswarev ward was killed by the marauders at Tse Audu Amo after he was waylaid in an ambush.
"The bodies of these victims were all recovered. Our major problem is that the herdsmen have taken over the thick forests we have in Logo which stretches as long as River Benue.
"It is from there that they come to mount road blocks to kill unsuspecting villagers after which they retreat and because these forests cannot be easily accessed they attack and withdraw into the forests.
"I must, however, commend the security personnel drafted to Logo because they have been doing a yeoman's job to curtail these attacks.
"They are our saving grace; they have embarked on total action against the marauders. If not for them Logo would have been taken over by the militant herdsmen.
"Their target is to take over our land and not about grazing anymore, they vowed to take over the Benue valley and that is the agenda."
A relative of one of the victims, Tersee Mondo, said his brother was murdered while on his way from his farm where he had gone to inspect work.
Reacting, the Benue State Police Commissioner, Fatai Owoseni, said his command was working hard to end such attacks, stressing that "there is no way you can completely eradicate criminality in the society.
"Where you have isolated cases like that, it could be normal crime. In fact, there are so many dimensions to what is happening in that axis of the state.
"But like the chairman said, we are certainly not sleeping that is why peace has gradually returned to that area."