FORMER Governor of old Enugu State and National Chairman of the Peoples Democratic Party, Dr. Okwesilieze Nwodo has declared Governor Ifeanyi Ugwuanyi as "the best performing Governor in Nigeria".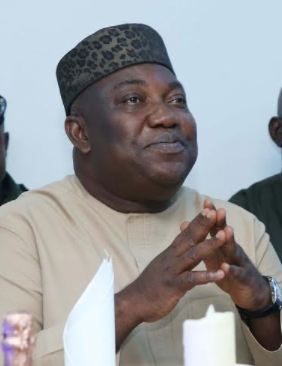 Dr. Nwodo also described Gov Ugwuanyi as "a humble, indefatigable, humane and outstanding manager of men and resources, for the development of Enugu State".
Speaking during a Thanksgiving Mass and endorsement rally for Gov. Ugwuanyi by his kinsmen from Orba Udulekenyi in Udenu Local Government Area, the former Governor appreciated the various endorsements for the governor's re-election in 2019 from all spheres of the society because of his performance and uncommon leadership style, describing it as a good omen for the state.
He said: "We will not be tired of   commending your performance,   pray for you and eulogize your uncommon leadership style".
Dr. Nwodo therefore, urged the people of Enugu State to ensure that they obtain their voters' cards and "join the winning train of the Peoples Democratic Party (PDP) for them to continue to enjoy the dividends of democracy in the state.
In his sermon, Rev. Fr. Emeka Ngwoke thanked God for what He has been using Gov. Ugwuanyi to do in the state, saying that "good leadership is truly manifesting in Enugu State".
The cleric appreciated the governor's humble and peaceful disposition as well as his close relationship with the lowly and neglected, saying:   "For once, our state now speaks and thinks as brothers and sisters."
He expressed delight that the political division in the state in the past had gone since the emergence of Gov. Ugwuanyi's administration.
Rev. Fr. Ngwoke also thanked Gov. Ugwuanyi for tackling the economic challenges that confronted the state when he assumed office as a result of the state's high debt profile and the drastic drop in the nation's crude oil prices.
He disclosed that the governor's civility, decency, vision, respect for all and exemplary leadership qualities made it possible for his administration to record the unprecedented feats achieved in the last three years.
He equally appealed to the people of Enugu State, especially adults who have not obtained their voters' cards to do so as "you are failing in your civic responsibility".
Endorsing Gov. Ugwuanyi for re-election in 2019, the people of Orba community through an address delivered by the President General, Orba Udu General Assembly, Chief Charles Mbah said they are proud of their "illustrious son and a worthy ambassador".
They maintained that the governor "with his usual characteristics as a prudent, accountable and judicious manager of resources", has in spite of the nation's economic challenges entrenched peace and good governance in Enugu State.
Gov. Ugwuanyi's kinsmen added that the governor, when other states could not pay workers' salaries and were consequently downsizing the workforce, he was "recruiting additional workers, paying salaries promptly including the peculiar 13th month salary, which was paid across the entire Enugu State including Primary School Teachers and Local Government Staff".
The Jubilant people also listed other remarkable achievements of the Governor in all spheres of development ranging from massive roads construction, rural development, empowerment, education, health, security, among others, stressing that "Your Excellency's good governance status has resulted in your endorsement and blessing for your second term in office across the state".
"It is against this background that Orba Udelekenyi is today giving her unalloyed endorsement /blessing to her illustrious son, Rt. Hon. Ifeanyi Ugwuanyi (Nwa Orba Udu) to go back at the Lion Building come 2019 and finish up the good work he has started in the state", they declared.