Tens of thousands of South Americans have flocked to Moscow for the World Cup and become the most visible group of visitors so far, with Peruvian, Mexican and Argentinian chants reverberating around the Russian capital.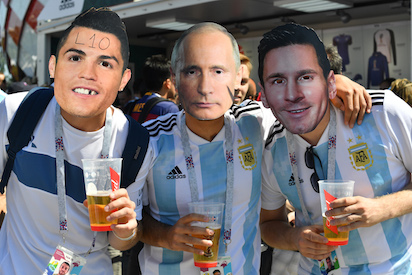 Spanish is rarely heard on the streets of Moscow but has overnight become the primary foreign language in the city, with some Muscovites even beginning to hum along to Peruvian and Colombian supporters' rallying cries.
The football-loving nations gathered near Red Square on Friday, each country's fans cheering for hours near the Marshal Zhukov statue as Russians took selfies with them.
Peruvian fans, in their white and red colours and many wearing traditional chullo earflap hats, have become especially noticeable due to their sheer numbers and catchy songs.
– 'We've been waiting 36 years' –
FIFA has sold over 43,000 tickets to fans in Peru, after the national side qualified for the World Cup for the first time since 1982 in Spain.
"We've been waiting for this for 36 years, it's very emotional for us," said Elizabeth Pichilingue, a 38-year-old Peruvian who lives in Hungary.
She added that Peruvian families scattered all over the world were meeting in Moscow to watch their country play.
"This team is closer to the people than any national team we've ever had," said Jaime Urteaga, a 43 year-old Peruvian estate agent, who attributed this to a generational change in the team.
Urteaga said he bought his tickets to Russia "within an hour" of Peru's 0-0 draw with New Zealand in November last year, thereby qualifying for the World Cup.
– 'Travel of our dreams' –
The 19-hour trip to Russia including accommodation and tickets in several cities has cost Peruvian fans between $5,000 and $7,000, but for many the price is secondary to their love for football.
"It's been 36 years, the budget does not matter. This is the travel of our dreams," said 31-year-old project manager Aaron Torres.
"I may have to work a year to pay for this but I will always remember what I see here, it is priceless," said Renzo Campos, a Peruvian cook living in the US.
Others say the travel costs are affordable in a country that has one of the world's fastest growing economies.
"Peru has good growth now and a lot of people have money to go to Russia," said 40 year-old company director Ivan Mateo.
– 'We express ourselves through football' –
Other Central and South American fans were undeterred by the costs.
"In Mexico, football is so popular that many people have sold their cars to come here," said Dulce Gallegos, a 35 year-old Mexico fan.
Mario Herrera, a Panamanian urologist, paid over $4,000 to see his country play in the World Cup for the first time.
"There was a party all over our country when we qualified, those guys (Panama's team) are our heroes," he said.
"We are a small country of four million people but I think we will fill the stadiums."
Whereas the biggest rivalry between the South American fans is between Argentina and Brazil, all the fans AFP spoke to said the love for the game unites the continent.
"Football is all of our life," said Sebastian Vicente, a 44 year-old Argentina fan.
"Our country expresses itself through football."