From Russia with love… Brief stories from the World Cup
AFP Sport takes a look at some of the stories you may have missed at the World Cup on Friday.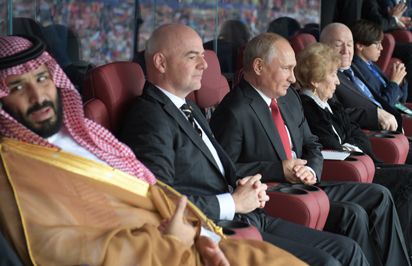 Sorry, not sorry
The Kremlin said Russia should not be sorry for the hosts' 5-0 crushing of Saudi Arabia in Thursday's curtain-raiser in Moscow.
"You don't apologise for winning in sport," said Vladimir Putin's spokesman Dmitry Peskov, when asked whether the Russian president was apologising to Saudi Crown Prince Mohammed bin Salman when he kept shrugging at him after almost every Russian goal.
Panama's famous fans
Some famous faces will be among Panama's travelling support for their World Cup debut against Belgium in Sochi on Monday.
Around 4,000 Panamanians are making the trip, including President Juan Carlos Varela and New York Yankees great Mariano Rivera. Considered the greatest relief pitcher in baseball history, five-time World Series champion Rivera is a national hero in his homeland.
Pub ritual on ice
Iceland coach Heimir Hallgrimsson will forego his favourite pre-match ritual ahead of Saturday's clash with Argentina — visiting the pub to meet supporters. Hallgrimsson usually meets fans in a bar in the lead-up to a big game and briefs them on his tactical plans, trusting them to keep his match blueprint under wraps. But he said the 4:00 pm (1300 GMT) kick-off in Moscow meant "the game's too early, I won't go to the pub before the game".
Hallgrimsson said the traditional pub visit showed the bonds football fostered in Iceland, which has a population of just 330,000. "There's this closeness and trust between the players, the coaches and the fans that makes it possible to go to the pub and visit the fan club," he said.
"It just shows the unity with the fans and the respect that we get from them… it's more than a football match with the Iceland fans, you can see it in their eyes, it means a little bit more for them."
No chickens allowed
According to the Nigeria Daily News site, Russian authorities have rejected an official request from the Nigeria supporters association to bring live chickens into World Cup stadiums — a common good luck charm in Nigeria.
Russian Minister of Culture and Tourism Andrei Ernak told Interfax: "Fans from Nigeria asked whether it is possible to go to the stadium with a chicken. This is their symbol, citizens are seen with them in all matches.
"We told them that it's by no means possible to come with a live chicken. But if the Nigerians are rooting for their team in other places, we will of course advise them where the chicken can be bought."
Leckie lends an ear
"That's why he's with me!" said quick-thinking Australia coach Bert van Marwijk after being handed a radio earpiece by forward Mathew Leckie after the Dutchman had failed to understand a question in Russian.
Minutes earlier Van Marwijk denied that Leckie's attendance at the pre-match press conference meant his traditional captain, Mile Jedinak, would not be on his team sheet against France on Saturday. "For me, it's good sometimes another player is sitting next to me. It's also good for you (media) to see a new face!"