The Women and Youths Support Group (W.A.Y.S) for "ATIKU 2019" National President/Global co-ordinator, Princess Kemi Adesanya-Eboda  and Mr Christian Aburime, National General Secretary/Director Research and Strategy have both debunked the allegations made against the former vice president and PDP presidential hopeful, Alhaji Atiku Abubakar by some groups that Atiku's pronouncements to privatize the oil and gas sector if he becomes the president of Nigeria as callous and anti-people
The group in their statement have castigated the former vice president as being anti- Nigerians with his pronouncements to privatize some parts of the oil and gas sector if voted into office come 2019.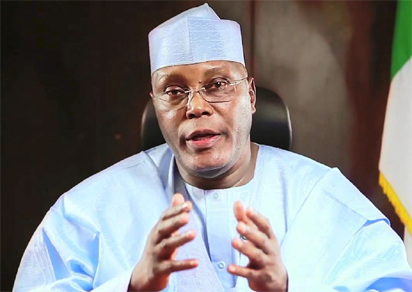 In a debunking  the groups assertion via a statement made available to the media, Princess Kemi Adesanya-Eboda, WAYS national president/Global coordinator described the condemnation of Atiku's genuine pronouncements on privatizing some parts of the oil and gas sector as being misconstrued and blown out of proportion by some groups to castigate the former vice president. She said Atiku was speaking the minds of most Nigerians who desire a drastic change in that sector because of the monumental corruption associated with it.
Speaking further, Mr Christian Aburime, WAYS National General Secretary and Director of Research and Strategy, described the current onslaughts against Atiku as mere propaganda by some groups who are currently not comfortable with his towering popularity in recent time.
Mr Aburime opined that Atiku pronouncements was in the best interest of the country, adding that NNPC has become more of a conduit pipe for official and unofficial corruption and there was urgent need for some parts of the cooperation to be unbundled and floated in the Nigerian stock exchange for every citizen to become a stakeholder so that the corporation can be viable for the benefits of the greater majority of Nigerians. He said NNPC has always benefited a few at the expense of the Nigerian masses.
Aburime reiterated that Nigerian now pay N1.4 trillion in subsidy annually according to the minister of state for petroleum, Dr. Ibe Kachukwu which is too weighty for the country to bear.
The former vice president suggestion was therefore a patriotic intention meant to reduce waste and save money for the nation through privatization of some parts of the oil and gas sector of the economy because government businesses are badly managed
Aburime also noted, that Obasanjo/Atiku administration years back successfully liberalized the Banking and Telecommunications sector which opened up the economy with more jobs created and ease of doing business vastly improved. He re-affirmed that Atiku's government will be for the Nigerian masses if elected president.