By Emma Una
CALABAR—NIGERIAN Export Promotion Council, NEPC, has trained 850 farmers in Cross River on yam seed multiplication technology to assist them grow yams for export.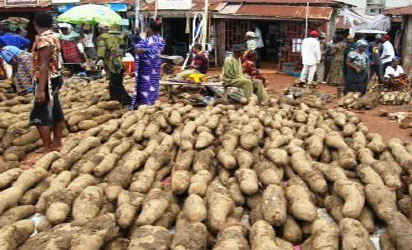 The programme, organised in collaboration with Nigerian Institute for Tropical Agriculture, IITA, and all Farmers Association of Nigeria took place at Yakurr, an agrarian settlement, in Yakurr Local Government Area of the state.
Dr Emmanuel Etim, the Trade Promotion Advisor for NEPC who launched the session said the programme was a pilot scheme aimed at boosting the capacity of farmers in the state to aggressively harness their potentials to plant and harvest yams that meet export standard.
According to him: "Cross River State has been known over the years as a rich agricultural heritage but produce from the farming activities lack the basic quality requirements of the export market due to  the absence of good agricultural practices, poor post- harvesting handling techniques, and non- compliance with global food safety management system hence their consumption is localised."
He added: "With the skills acquired from the new technology, farmers in the state have been equipped with the ability to meet whatever standard is expected of them at the international market and that will be a source of revenue for them and boost the country's foreign earnings.
"With these number of farmers, Nigerian yams will soon flood the international market and our people will reap the benefit of farming by earning other than merely celebrating yams and harvesting yams  just to meet their family food needs and the  local consumption market."
Mr. Peter Egba, the Cross River State Commissioner for Commerce and Industry, said the project is a necessity in the state having been in the forefront of improved agricultural practices in the country and charged farmers to optimize the skills acquired during the training.
"You can access loans with this knowledge and increase your farm size and also transfer the skills acquired to other members of your communities so that everyone will become financially buoyant," he said.
The Seed Production Officer for IITA, Mr. Azeez Oyeyemi said the institute has been in existence for 50 years and has carried out the yam, cassava, plantain and banana multiplication research to boost food production in the country.