The suggestion by the U.S. President Donald Trump to visit Nigeria may not happen any moment soon as it will take up to a year to prepare, Nigeria's Minister of Foreign Affairs Geoffrey Onyeama has said.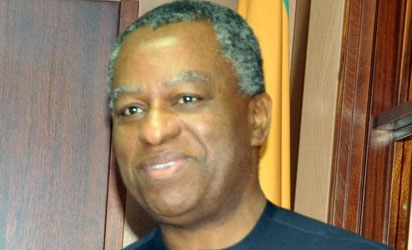 Onyeama said in Washington, DC that Trump also has a very busy schedule while Nigeria's general election was also coming up.
Trump had told Nigeria's President Muhammadu Buhari that he would like to visit Nigeria, a country he described as "amazing''.
"I would very much like to visit Nigeria. It is an amazing country and in certain ways, I hear from the standpoint of the beauty of a country.
"There is no country more beautiful," Trump said on Monday at a joint briefing with Buhari.
However, Onyeama said: "Regarding the invitation, well if the programmers of the two presidents are very very intensive, it usually takes anything up to a year to prepare for invitation at that kind of level before they actually take place".
"Of course in Nigeria you know we have elections coming up and a very very busy schedule as that of President Trump. May be sometime next year we could envisage something like that," he said.
Onyeama explained that Buhari's outing at the U.S. was a win-win for Nigeria and the U.S. saying each president has 10 members of his delegation during the bilateral meeting between Buhari and Trump.
He added that Buhari met with six Chief Executive Officers of U.S. agriculture companies and with a group of 10 U.S. business leaders from different sectors, including petroleum.
"Areas covered were Security, trade, governance issues. On trade, the objective was to increase the level of trade between Nigeria and the United States.
"The two presidents agreed that concerted efforts will be made. The issues of market access in the context were discussed.
"On security, the U.S. has been helping Nigeria, supplying military equipment in the fight against terrorism and there is agreement to continue the cooperation between the two countries in this context.
"In the area of governance, the return to Nigeria in the area of large sums of money that has been siphoned out of Nigeria and lodged in banks in various jurisdictions around the world and the cooperative with the United States helping to repatriate these funds to Nigeria were also discussed.
"A commitment was made to me his cooperation in this regard.
"So there were good wins, on the security side, continued cooperation and of course reparations of these funds and increase in trade," he said.
On Trump's request for Nigeria to support the joint U.S. bid for the 2026 FIFA World Cup with Canada and Mexico, Onyeama suggested there was no commitment from Nigeria so far.
"We will wait and see," the Nigeria's foreign minister said. (NAN)
Subscribe for latest Videos