By Bunmi Sofola
SADLY, a large percentage of marriages fail, forcing victims to go back to the dating scene looking for a suitable replacement. As traumatic as it is, putting yourself out there again could be nerve- wracking. "My divorce came as a shock to me," recalled Ireti, just over 30 and a mother of two sons. "We were married for only seven years, enough time for me to realise that if I didn't leave the marriage, I might lose a limb or an eye! My ex was so violent that any man I talked to was a potential lover.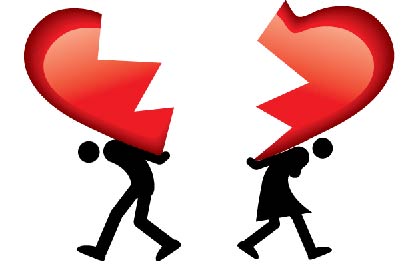 The day he beat me almost to an inch of my life because he didn't like the way I interacted with his friends at a party, signalled the end of the road with him.
"The next day, my parents came for me and the kids. They were fed up with all the violence and it was a good thing they came with a couple of policemen because he was very confrontational. Accusing my parents of always taking my side and never listening to his side of the story.
"It took a while for the divorce to sail through and the thought of dating again scared me – I didn't want to end up with another monster but I also didn't want to give up hope of finding love. My kids are under ten and I would love for them to have a decent father figure in their lives." It's true that ending a marriage can be draining, it doesn't have to mean the end of romance in your life. You've taken some knocks and it's time to get your feet wet again – the world is your oyster! Here, a relationship expert tells you how:
Let go of your failed marriage: Not everyone can meet the perfect person and stay with them for ever. For some people it takes a few attempts to get there. Don't beat yourself up for past mistakes with a relationship, and don't believe everyone is like your ex. Each person you meet has something new and different to offer, and just because you've had one failed relationship doesn't mean you can't have a successful one. Practice makes perfect, right?
Keep an open mind: It can be easy to get stuck in your old ways, but now's the time to be open to new opportunities. Don't compromise your values, but be open to meeting people from all walks of life.
Join new clubs: Finding a new hobby can be good for your overall happiness and wellbeing, and may lead to romance as a bonus. Whether it's salsa dancing or a church group, choose something that interests you and the chances are you'11 meet like-minded people. And if there's no one there that catches your eye – don't worry. Just by widening your circle of friends, you're giving yourself a chance to be introduced to their friends. Who knows who you may meet!
Make an effort: Divorce can put a massive dent in your self- esteem. But making an effort with your appearance can do wonders for your confidence. We're not suggesting wearing your sexiest little black dress for a casual date. But doing things like getting your hair done, wearing your favourite make-up and clothes, or treating yourself to some new jewellery to go with your outfit, can really make a difference.
Don't lose your sense of humour: You're bound to have some awkward moments on a date, but it just means you've got something to giggle about with your mates afterwards – see each case as a learning experience. Remember there are plenty of other people in your situation, and that divorce doesn't have to mean the end of dating.
How To Handle Your Temperamental Teenage Kids!
MOST adolescents have times when they can be aloof, surly or rude, and it's natural for parents to be concerned. But in most cases, it is nothing more serious than the natural development into adulthood. Below, Dr. Louise a paediatrician explores the most effective ways to handle temperamental teens – as well as what not to do.
Be calm and measured: Hormonal changes during puberty can make teenagers act emotionally rather than logically. It can be a scary time for them, and although it may be hard not to react if they say something hurtful, it's important to keep calm and ensure they know you're there for them. Even if they're unresponsive, they need to know you love them.
Set boundaries and keep to them: Even if your child is unhappy with the rules you put in place, they are vital as they help them feel safe. And remember, you're their role model, so if you smoke, drink and take drugs, they won't listen to you if you tell them not to. But don't become too overbearing. Make sure they have their own space, and also time to socialise. Making friends outside the home is an important part of growing up.
Be approachable and warm: Fed up with the kids not helping with house work? Then try a little tenderness. Mums who show warmth towards their teens give themselves a higher chance of having adolescents that are friendlier and help more around the home.
Dads – don't be a dictator!: Research has shown that teenagers whose fathers regularly shout at or criticise them are more likely to behave badly, both at home and with strangers. There was also evidence that teens who were raised by aggressive fathers became drawn towards antisocial behaviour in later life. Interestingly, the same study found that mums who parented in the same manner had no impact on their kids' behaviour.
Look after yourself: Parenting kids can be stressful, especially when you have other commitments. It's far easier to cope with troublesome teenagers if you get a good night's sleep, talk to friends and family about what you're going through, and make sure you get time to unwind. If you're concerned about your own mental health, speak to your doctor.