•'How we shut brothel after being friends with sex workers'
By Funmi Ajumobi 
Reverend (Mrs) Ronke Adekoya is a Director of Education in Lagos State Ministry of Education and Principal of Anthony Village Senior High School. Adekoya has taken her job beyond teaching to shaping the lives of teenagers that cross her path. In her passion to help young ones find fulfilment, her continuous visit and counsel to sex workers in a brothel in the area where she lives was shut down and has since become a residential building because all the inmates found better life through her special programme tagged, 'Friendship with Vision'.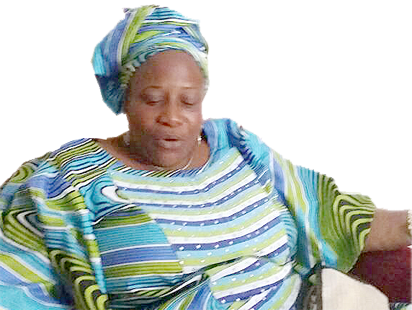 Her interest in teenagers developed after she found that many of them do not know what reaching puberty means. "When they start their menstrual flow, you see the girls covering the stains on their uniforms with cardigan. This prompted me and the late Miss Anita Roper to start what we called 'Growing up Class'. We told girls who participated what it meant to grow up from being a little girl to being a woman", she told Sunday Vanguard.
In January 1985 when she was Principal of Regan Memorial Baptist Secondary School, Sabo Yaba, she worked with Roper, an American in the employ of the Baptist Church.
"Roper's passion for teenagers prompted her into starting a Baptist Girls High School group called 'Rain Utterance'. We concentrated mainly on teaching female teens what it meant to grow from a little girl to a woman. Along the line, other things came in, like teaching the teens good postures, self-esteem, etc. The project later metamorphosed into my foundation called Hephzibah Foundation", she pointed out.
"Over the years, I have taken this passion into every school I was posted to. I enlighten girls and boys as well as teachers who relate with the teens better.
"Hephzibah Foundation started in 2004 at a time I had been posted to Gbagada Comprehensive Junior High School as Principal. We impacted over 200 students from different schools.
"The main focus of Hephzibah Foundation is 'Touching Lives and Transforming Destinies'. We try to bridge the gap between parents who have difficulties in educating their children on sexuality. Many parents don't know how to give sexuality education to their children. They do not understand that a teenager is like an adult body with a child's mind. This stage brings confusion as a result of the hormonal changes taking place in the children's bodies. A lot of things go wrong and some parents are not aware of what goes on with the children. For example, during a programme at a secondary school in Gbagada, my telephone numbers were given to the students in the event that they had anything they wanted to share or ask question about.
The following Sunday I got call from a 14-year-old girl who claimed she had a confession to make. Her confession was that the family cook, a Calabar man, had been sexually assaulting her since she was eight years old, and threatening to kill her if she voiced out what was happening. I asked about her mum, and she said the mother was a business woman who had no time for her. Her major concern was that at 14 she hadn't started her menstruation and was scared that perhaps the cook had used it for rituals. We later found out that her situation was hereditary. We also took her through different sessions and, at the end of the day, we were able to save that family and show the parents why that child needed their attention.
"We found that the thirst these children have for information is what leads them into most of the immoral acts they indulge in. Therefore, they should be duly informed about their private parts and other related issues that will keep them informed and in check".
Elaborating more on the foundation, Adekoya said, "We started by being friends with sex workers, engaging them in conversations that compelled them to share their stories with us and then convinced them to stop what they were doing. In order to ensure that they gained our confidence, we had to begin by sharing female condoms to them, and then encouraged them by teaching them skills they could use to make a living. To finally pull them out of this wayward life, we performed deliverance on them and enrolled them into the Christ family. With the help of Lagos State Ministry of Women Affairs and Poverty Alleviation, we were able to help some of the sex workers who decided to go back to school. Some of them that had interest in learning a trade, we sponsored them and also reunited some with their families.
"The good news is that the brothel was shut down when all the prostitutes there became better citizens and the place was empty.
"We were also able to help young school leavers who we trained on self-esteem, how to behave like an adult and relate properly with the opposite sex, photography, soap-making, make-up, Adire making, and how to dress to be addressed properly. After the training, we gave them items to encourage them use the skills they had learnt. Certificates of participation and proficiency were given to the participants, though not all of them got it. The certificates got to those who showed a level of seriousness and professionalism.
"In February, the Hephzibah Foundation did a programme called 'Let's talk about Love'. That was about a week or two before Valentine's Day and the essence was to help reduce the rate of involvement of teenagers in sex in the name of Valentine. There was another programme we did for parents called, 'Understanding your teenagers', at Onikan Ransome Kuti Centre. We talked basically about giving children attention and getting to communicate well with them".
Adekoya plans to retire in Jan 2020. But ahead of the retirement, she is writing a book on teenagers.
"I want to tell teenagers that they are terrific. God has put a lot in you that need to be fulfilled. Relax as you grow up. If you are confronted with any problems, feel free to talk to your parents or any responsible adults around. In case any of you need a listening ear, here are some numbers to call: 08034341963 or 09096425900".