By Olasunkanmi Akoni
Two friends, Semiu Obanla, 35, and David Edet, 32, who specialized in stealing mobile phones from their girlfriends and prostitutes before reselling to other  prostitutes, have been arrested by operatives of the Rapid Response Squad, Lagos State Police Command.
The married suspects were arrested at a hotel in Abule-Egba, Lagos after a stolen phone was tracked to the hotel they lodged.
Confession
In his confession to the police, Semiu stated: "David and I met at a site in Ikorodu where we both worked as labourers before extending the working relationship to friendship.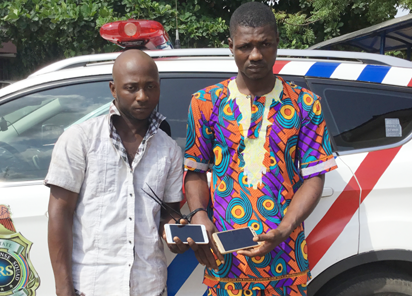 "Apart from working as a labourer in construction sites, I also work at Idi-Iroko where I assist smugglers to load and offload goods at the border posts.
"Sometime in February this year, I reconnected with David whom we had worked together at Ikorodu. I invited him to work at the border post after he had attempted to raise money through 'Yahoo- Yahoo' failed.
"We connived to start stealing phones and valuables from our dates and prostitutes because David and I do visit the brothels for sexual pleasures after our daily work.
The plot
"That night after drinking at a bar in Atan area of Ogun State, David and I proceeded to negotiate with prostitutes in order to enjoy our night. Before approaching the prostitutes, we planned to steal their valuables.
"The plan was successful. We had two unsuspecting prostitutes, who believed we were good customers but didn't know our motive. We agreed for N5,000 for a night for each of the prostitutes. We paid N3,000 for the lodging overnight at a nearby motel, which we used regularly.
"As planned, David was to sneak into my room at around 3:00 am, steal my phone and hers. In the morning we began to look for the phones, to the point that even the hotel workers joined us.
"The following morning, David and I discovered her phone was an itel Android phone, which we sold for N20,000 to another prostitute in Abule-Egba,  Lagos, where we usually visit to have sexual pleasure. We sold the phone to one Chimedi popularly called Cyndi and shared the proceeds.
"In another incident, sometime in April, I met a lady in a public vehicle while David and I were going from Atan to Idi-Iroko. I spoke with the lady whom I later invited to our regular drinking bar.
"On the fateful day, as usual, David and I planned how to steal the lady's mobile phone and flee the scene. When the lady arrived the bar where we were waiting for her, David and I sat separately to avoid being spotted together.
"I purposely used the lady's phone till the battery went low. I offered to help her charge the phone inside the bar. She agreed and released it to me.
"I kept the phone in my pocket and walked out to tell her I was helping her to charge it. I then pretended I was receiving calls, and I stepped outside the bar from where I fled on a motorcycle and David followed.
"We proceeded to the Abule-Egba brothel to sell the phone as usual. We sold the phone to a sex worker. It was there RRS officers tracked the phone and arrested us with some of the stolen phones."
Recovered from the suspects were two Android phones. The suspects had been transferred to the State Criminal Investigation Department, SCID, for further investigations.