….as firm promises to boost food security, wealth creation with mechanisation
By Gabriel Ewepu
ABUJA- THE Minister of Agriculture and Rural Development, Chief Audu Ogbeh, has assured farmers of government's support with 10, 000 tractors from John Deere in the next five years to boost mechanized farming across the country.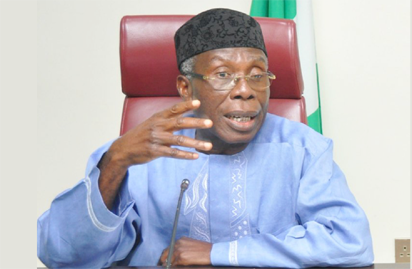 Ogbeh who received the management of John Deere in office lead by the President and Chief Executive Officer, Africa, Asia and Europe, John Deere, Mark Van Pentz, expressed optimism that with Public Private Partnership, PPP, initiative the sector will experience high mechanized farming activities that would lead to wealth and job creation, hence will attract young people into farming.
According to him with the coming of John Deere at this point the government has been on diversifying the economy mechanization services will be delivered to farmers. He also asked the company to consider ploughs that will accompany the tractors and get the best tractors that would last for 15years on the farms, which could be easily replaced.
He said: "In the discussion of President Buhari and President Trump, a topic came up on the importation of agriculture related items from the US and I don't think people understood perhaps the first and most strategic item is tractor.
"We as a government have decided that we have too long relied on a mono-crop and oil and paid a very little attention to agriculture, we have paid a very high price for that and it is time for us to change gear and if we don't the future could be extremely painful.
"We want to congratulate you to be first to take the leap forward; we are looking at 10,000 tractors from you in the next five years, an average of 2,000 per annum and we have structure, a public private partnership between the Nano Group and the Ministry of Agriculture, and we are proud to say you that our department of mechanization has put in place a structure which we believe will work across Africa far better than what we did in the past.
"We thank you for faith in Nigeria at this time, for the willingness to partner with us and we can assure you that through Nigeria, East, Central and West Africa, Nigeria will be a marketing tool."
In his earlier remarks, President and Chief Executive Officer, Africa, Asia and Europe, John Deere, Mark Van Pentz, said Nigeria remains an important country in food production, and that has made them to be present in the country since 70s and 80s, and now have better equipment, services and solutions to offer millions of farmers in the country and look forward to partner with the government and other to deliver these equipment and services that would make Nigeria prosper in the near future.
Also speaking was the Managing Director, Sub-Saharan Africa, John Deere, Jason Brantley, who said they have launched an agricultural revolution campaign for food production called 'SMART', which will also support farmers in Nigeria.
According to him SMART implies S-solution for small-scale farmers; M-mechanizing food yield improvement; A-access to finance; R-reliability for lower cost; T-technology and education.
"We are to put together a very comprehensive and appropriate strategy to improve mechanization in food security for Nigeria", Brantley said.
Meanwhile, the company has launched tractors and solutions that would service the agricultural sector under its SMART campaign at Gwagwalda, Abuja.
The Minister who cut the ribbon at the ceremony said government has no business in tractor management since it has proved to be a colossal failure, rather promised to partner with John Deere.
In his good will message, the National President Tractor Owners & Hiring Facilities Association Nigeria, TOHFAN, Danladi Garba, appreciated the move by John Deere to assist farmers in practicing mechanized farming, and describing it as a new beginning in the sector, which he also called on the company to consider an assembly plant in Nigeria.
Also in his good will message, the National President, Rice Farmers Association of Nigeria, RIFAN, Aminu Goroyon, represented by the National Vice President, Abdullahi Yawa, said the association with membership in all the 36 and Federal Capital Territory will partner with John Deere following the importance of mechanized rice farming.