ON Friday 18th 2018, the Nigerian Army made public the findings of the panel it set up to investigate allegations of partiality levelled against it by a former Chief of Army Staff, retired Lt-Gen Theophilus Danjuma and some groups in its ongoing operations to curb killings by armed herdsmen and other bandits in the Middle Belt and other parts of the country.
Danjuma, at a public function on 24th March 2018 in Jalingo Taraba State, had alleged that the military was aiding the armed hoodlums to kill Nigerians and grab their lands, urging them to rise up and defend themselves. Transparency International (TI), Human Rights Watch (HURIWA) and various indigenous interest groups had earlier accused the army, police and security agencies of damaging, unprofessional conducts.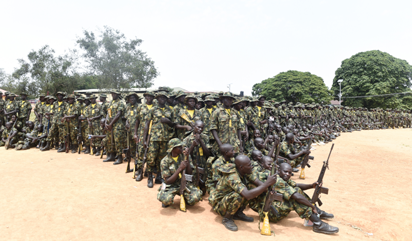 The Chief of Army Staff, Lt-General Yusuf Tukur Buratai, while setting up the committee headed by Major-General John Nimyel, had said it was "imperative for the Nigerian Army to set up this panel to confirm the veracity or otherwise of this allegation". While exonerating the Army, Buratai blamed the conflicts in Taraba on communal differences along ethnic, religious and political lines, as well as the proliferation of arms made possible because of the porous border with Cameroun.
Buratai added: "the Army is also of the view that the situation in Taraba has steadily deteriorated largely due to distrust, intolerance, lack of inclusion and accommodation of different ethnic groups in the state".
As expected, the Taraba State Government and many Middle Belt interest groups have already rejected the Army self-probe report, saying the military cannot be the judge in its own case.
It is quite obvious that the probe has not achieved its purpose of disabusing the minds of the public over these allegations, neither has it strengthened the confidence of the people on the military's neutrality. It has merely reinforced already settled positions.
The allegations by Danjuma and vested groups were very serious and did not require an internal probe alone by the Army. Nobody is allowed to mark his own exam papers. There should have been a wider, more ramifying investigation through an umbrella body such as the National Assembly. Nothing less than a judicial panel of inquiry and the involvement of the Nigerian Human Rights Commission (NHRC), the media and civil society groups would do. A mere in-house exercise by the military would definitely never invite members of the public, General Danjuma, TI, HURIWA and others to testify.
We believe that it is not too late to do the right thing: set up an independent probe. The Army does not own itself. It belongs to all Nigerians. It is in the best interest of the Army and the nation that the full confidence of the people in the ability of our security forces to defend us is reaffirmed.