By Omeiza Ajayi
ABUJA – Amid reports of parallel local government congresses in most states at the weekend, the ruling All Progressives Congress APC has declared as an exercise in futility, any congress conducted by people other than the committees it deployed in the states for that purpose.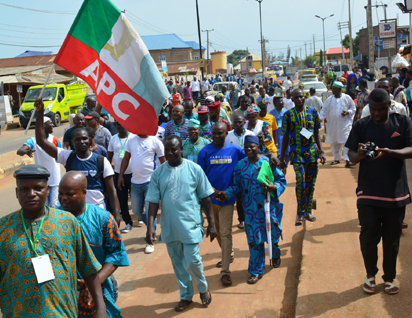 "The Party position is that there is no such thing as parallel congress", said spokesman of the party, Mallam Bolaji Abdullahi in a statement Monday in Abuja.
According to him, "The only congress recognised by the party is that conducted in accordance with the party constitution, which was organised by the congress committee charged by the party to organise such congress.
"We therefore regard any so-called parallel congresses as exercises in futility and attempts to cause confusion in the party.
"We wish to reiterate that any party member who has any genuine grievances regarding the congresses should channel such through the Appeals Committee in their respective states", Abdullahi added.
Saturday's APC local government congresses reportedly saw the emergence of parallel executives in many states of the federation.