By Samuel Oyadongha
YENAGOA—Aut-horities of Bayelsa State Police Command have confirmed the arrest of no fewer than 18 persons for alleged violent behaviour, assault and vandalization of Amassoma Divisional Police Station, in Southern Ijaw Local Government Area of the state during Tuesday's  protest against the reopening of the Niger Delta University, NDU Amassoma.
Spokesman of the command, Asinim Butswa, described as untrue, reports that security operatives shot two protesters at the university, saying it was a misrepresentation of fact.
According to him, "Following the ongoing reforms by Bayelsa State Government, in ministries, agencies and parastatals in the state, some workers of NDU, Amassoma, protested and shut down the gate of the university for over one month. This fragmented the staff of the university into pro and anti reforms. Evidently, some non- workers of the university had infiltrated the riotous crowd.
"The Vice Chancellor and some critical stakeholders reached an agreement to reopen the school. The school authority informed the Bayelsa State Police Command to prevent hoodlums from stealing the property of the university.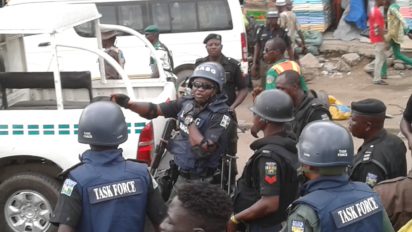 "Consequently, on 21st May 2018, the command deployed security personnel to the university. On arrival at the gate, the detachment of Policemen met a hostile crowd, who fired shots at them. The Police had to use reasonable force to contain the hostile protesters. In the ensuing melee, two police officers were injured and five police vehicles vandalized. Meanwhile, 18 suspects have been arrested for riotous behaviour and will soon be charged to court.
"The Command also rescued 80 youth corpers from Amassoma and were handed over to the National Youth Service Corps officials in Yenagoa."
"The command wishes to re-echo an earlier warning concerning unauthorized and unlawful gathering of persons or group of persons, without a duly approved police permit. The command recognizes the constitutional rights of law abiding citizens for procession, picketing or other forms of protest, but these rights must be exercised within the confines of the law. The command will process and provide security cover for any legitimate procession or public protest which is part of democratic policing.
"The command has deployed additional security personnel to contain the protesters and restore normalcy in Amassoma community. The command wishes to solicit for cooperation of good and well-meaning people of Amassoma community, to be law abiding and to report any suspicious movement of persons to the nearest Police Station."
Protest, attempt by cultists, hoodlums to disarm security operatives- Bayelsa govt
Meanwhile, Bayelsa State government has condemned in strong terms the attempt by cultists and hoodlums to disarm security agents deployed to keep the peace in Amassoma, the host community of the Niger Delta University.
The Special Adviser to the Governor on Media Relations, Mr. Fidelis Soriwei, in a statement said security operatives had a right to self protection when they come under attack in the discharge of their lawful responsibilities.
The statement called on parents to cooperate and accord the deserved respect to security operatives doing their job in the state.
Subscribe for latest Videos