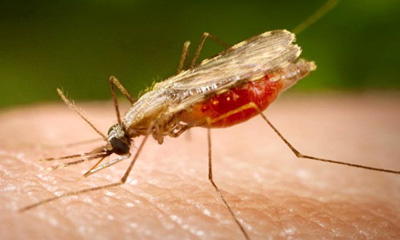 Mosquito
•20 states worst hit
By Chioma Obinna
 Malaria is the world's oldest disease and findings by World Health Organisation (WHO) show that half of the world's population and 90 per cent of the Commonwealth population, including Nigerians, are at risk despite progress made so far. Malaria is a preventable disease that costs less than $1 to treat but WHO says the disease is making a comeback as it reported that global malaria control has been stalled. The stall was by experts at the 2018 Commonwealth Heads of Government Meeting, held in London, who expressed the fear of malaria resurgence. According to them, after 16 years of steady decline, malaria cases are on the rise again globally. One of their fears was insecticides' resistance as mosquitoes multiply. They agreed that unless efforts to tackle the disease are stepped up, the gains could be lost. Sunday Vanguard looks at the situation in Nigeria.
According to the 2015 Malaria Indicator Survey, MIS, one in four children under five years tested positive to malaria. The number represents 35 per cent decline since the previous MIS in 2010 when more than 40 per cent of children tested positive for the disease. The 2015 survey also shows a marked decrease in prevalence of the disease among children under five and major improvements in prevention and treatment.
Unfortunately, the gains are gradually being eroded by some factors currently hindering the control of vectors in the country. But the problem in Nigeria's case is aggravated by endemic poverty, negative attitude and environmental factors.
Today, whereas over 20 states in the country are battling resistant mosquitoes, some Nigerians are ignorant of appropriate treatment for malaria while many are victims of fake anti-malarial drugs and ineffective insecticide treated nets.   Meanwhile, the environment does not make things easy as human activities contribute to the increase in mosquitoes breeding sites. Cases abound where malaria drugs are distributed to people who never tested positive to malaria even as many others feel that all fevers are malaria without appropriate testing.
Painfully, the cost of malaria drugs has skyrocketed due to high exchange rate in a country where over 80 per cent of drugs consumed is imported. There are also concerns about mosquito elimination.
However, health watchers feel that because mosquitoes cannot be eliminated, malaria can only be reduced and not be eliminated.
According to experts, malaria is caused by infected Anopheles mosquito bite which transmits the plasmodium parasite that causes malaria. There are many different types of plasmodium parasite, but only five types cause malaria in humans.
In the past, malaria spreading mosquitoes only attack at night; now they also operate in day time.
Mosquitoes have been in existence for millions of years. The environment is not helping because it soothes and supports their existence. Today in Nigeria, the environment is the biggest factor promoting the breeding of mosquitoes. Many drainage systems are blocked, no thanks to heaps of refuse around the cities and communities.
The burden 
The 2017 World Malaria Report revealed the resultant effect as it found that 182 million Nigerians were at risk of an infection.
Stories are also told of how continuous mosquito bites cause repeated malaria bouts in the country.
A good case is that is that of a 45-year-old patient who spoke to Healthy Living at the Out-Patient Department of Lagos State University Teaching Hospital, LASUTH, on how he had been treating malaria for two months without improvement.
The patient, who gave his name as Abiodun Suleiman, said he had thought he had Lassa fever or other fever-related infections.
But Abiodun was shocked when a further test done at the teaching hospital still showed him positive for malaria despite all the drugs he had taken since the illness started.
"Before I received my test result, I was scared because I thought it was something more serious than malaria since I had been treating malaria for some time. To my surprise, the result showed positive to malaria and not Lassa fever."
With the latest laboratory report, the victim was convinced that it was either the drugs he had been taking were fake or he was having a repeated attack. Abiodun and millions of others account for the 29 per cent cases Nigeria contributes to the global burden of malaria. The country also has the highest number of cases of malaria, according to WHO report.
The Minister of Health, Prof Isaac Adewole, at the launch of the MIS, had said the status of the country on malaria highlights the need to focus on treatment as well as prevention.
Sunday Vanguard further sought to know why Abiodun had failed to use the insecticide treated nets, ITN. To him, nets are not suitable everywhere in Nigeria, particularly now that Nigeria is facing challenges of poor electricity supply.
According to him, he had never slept under a net.   He admitted that it was too hot to sleep under the net.
Universal net coverage
Meanwhile, investigation showed that treated nets remain the most effective and cheapest tool to prevent malaria.   But, sadly, the 2015 MIS report showed that only 69 per cent of households across the country own at least one ITN irrespective of the fact that WHO recommends100 per cent universal ownership.
However, the report also showed that ownership of ITN has increased over eight-fold since 2008 when only eight per cent of households owned an ITN.
It further showed that, overall, 27 per cent of children aged 6-59 months tested positive for malaria by microscopy in the 2015 MIS.    Despite these achievements, Adewole reminded that the country was still far from the vision of a malaria free Nigeria, revealing that, nationwide, malaria prevalence varies widely, ranging from 14 per cent in the South-East to 37 per cent in the North-West.
According to the 2016/2017 Multiple Indicator Survey (MICS), the northern zones lead in the number of households that own at least one net.   North-East and North-West top with 79.4 and 79.3 households followed by and North-Central with 63.6 households. South East has 53.3 and South-South 50.0 per cent. Ironically, the South-West, which is expected to do well on the list following interventions already put in place by the governments, is at the bottom with 48.4 per cent.
Resistant mosquito
Giving insight into the study done by the Nigerian Institute of Medical Research, NIMR, the Deputy Director, Research and Head, Malaria Research Group, Dr Sam Awolola, said Nigeria is far from being malaria free. "We are not close to elimination. We are still scaling up our intervention for malaria control. We are far from pre-elimination. As at today, going by our slide, that is, the index used to measure the progress, we are still at 27 across the country. Before you talk about elimination, you must be close to five per cent. It took us between 12 and 15 years to move from 40 to 27. You can do you calculation, if it took us almost 15 years to get here, how long it will take us to get to five per cent?", Awolola said.
"I can tell you that our journey is still far but it is not a completely bleak situation if we put our acts together as a country; political will and funding however are crucial".
The Deputy Director, who decried poor funding for research, said for NIMR to do research that will inform policy, funding must be guaranteed, adding, "For how long will Nigeria rely on funding from partners? Why can't we have our own roadmap to eliminate malaria?   I am not saying we cannot achieve elimination in five or four years, but we can get there if we plan properly. "
Awolola confirmed that nets are resistant to mosquitoes in over 20 states where studies were conducted.
He regretted that one of the consequences of the development was that the chances of more deaths from malaria were high in the affected areas, adding that the situation called for great concern.
The NIMR boss traced the new trend of resistance to the use of same reagents for agricultural products, stressing, "Basically, one of the major factors that contribute to insecticide resistance is the use of same reagents for agriculture globally. Most of the insecticides used in public health are also used in agriculture, which is a major source of resistance."
He listed the states where nets have been found to be resistant to nets to include all the six states in the South-West; Anambra, Enugu and Ebonyi in the South-East; Borno in the North-East; Kwara and Nassarawa in the North-Central; and Sokoto and Kano in the North-West.
Awolola explained that science had found a way with the development of new generation nets.   "The new generation nets are science-based insecticidal nets designed to kill mosquitoes that have developed resistance. With the addition of Piperonyl Butoxide in the mosquito nets, they are now able to remove that resistance and the insecticides will kill mosquitoes", the Deputy Director explained.
"For countries like Nigeria, conventional nets can still be used where mosquitoes are not resistant but where the mosquitoes are resistant, there is need for government to deploy new generation nets."
On his part, the Assistant Director, Integrated Vector Management Branch, National Malaria Elimination Programme (NMEP), Public Health Department, Federal Ministry of Health, Mr. Okefu Oyale Okoko, said the use of Long Lasting Insecticidal Net, LLIN, has proved to be the most effective and cheapest means of vector control, regretting that the rate of utilization was still low and had remained a challenge.
Okoko explained that LLIN is the first line intervention approved by WHO and the Federal Ministry of Health through NMEP. "Evidence has shown that it is effective in vector control as malaria prevalence in Nigeria has drastically reduced. There has also been a reduced rate of morbidity and mortality in states due to increased use of mosquito nets and other preventive measures, especially in pregnant women and children under five who are most vulnerable."
He disclosed that the Federal Government distributed a total of 16,199,953 LLINs in seven states namely Sokoto, Edo, Kwara, Osun, Imo, Ondo and Adamawa States in 2017.
According to him, there are plans to distribute over 18.4 million nets this year in six states namely Nassarawa, Ogun, Jigawa, Katsina, Gombe and Kebbi through replacement campaigns.
Recent gains
Reacting to the gains in the fight against the disease, the Malaria Programme Officer, WHO, Nigeria, Dr. Lynda Ozor, said the availability of tools for malaria control was a huge gain.
"Some years back, Chloroquine resistance was documented for most areas in Nigeria and around the world, forcing WHO, in collaboration with the research community, to quickly introduce an effective substitute, the ACTs, which, up till date, remain effective against malaria. Same has been for nets; you will recall that, previously, nets were being treated individually, but with improvement in research and innovation, LLIN provides long lasting protection against malaria", Ozor told Sunday Vanguard.
"WHO's role in the monitoring of the trend of the disease has provided immense support in the targeting of interventions in areas where it is mostly needed. This has also helped in the monitoring of programme performance against its set targets".
Health watchers believe that unless Nigeria makes good its commitments to the London malaria summit to raise 300 million dollars among others to fight back, the country may remain among the countries holding the world back on malaria elimination.
*Code for Africa contributed to this story