By Sola Ogundipe
Bill Gates, Co-Chair of the Bill and Melinda Gates Foundation really hates mosquitoes, but don't we all? Almost everyone has had the unpleasant experience of being bitten by a mosquito. Beyond the nuisance factor, mosquitoes are carriers, or vectors, for some of most dangerous disease pathogens many of which afflict humans. The mosquito is unarguably the most lethal creature on earth. It is responsible for so many dangerous illnesses that inflict untold suffering and death.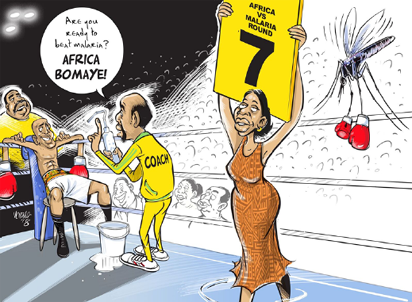 Mosquitoes actually transmit more diseases than any other creature.  One of such diseases is malaria—a disease that still claims the life of one child every two minutes, despite tremendous progress in recent decades.
Malaria is transmitted through the bite of the female anopheles mosquito. For promoters of malaria control and elimination, the mosquito is public enemy number one. But how ready is the world to beat malaria?
This April, as the world took stock of progress against malaria, it identified the gaps and plotted the way forward towards ending the disease for good. Two significant events in malaria which took place last week—the London Malaria Summit at the Commonwealth Heads of Government Meeting (CHOGM) and the Multilateral Initiative on Malaria(MIM) in Senegal put this in perspective.
With the rallying call 'Ready to Beat Malaria,' the RBM Partnership to End Malaria called on governments, health bodies, private sector companies and the public to accelerate progress against malaria.
On this year's World Malaria Day, and the culmination of a month of worldwide action against the disease, the theme was "Set to beat Malaria."
Coming at a time when global malaria cases are on the rise for the first time in a decade, we need to beat malaria for a number of reasons.
In recent years, decades of progress in the fight against malaria have stalled, and this year's World Malaria Day message is that it's vital that action is taken before gains against the disease are completely lost.
Since 2000,malaria related deaths have been cut by more than half, saving nearly 7 million lives, even as 11 countries have successfully eliminated malaria since 2010. But every 2 minutes a child still dies of malaria. More worrisome is the fact that in 2016,malaria cases rose for the first time in a decade and there were 216 million cases of malaria and 445,000 deaths.
Africa currently accounts for over 90 percent of global malaria cases and deaths and malaria costs Africa's economy $12 billion per year in direct losses, and 1.3 percent of lost annual GDP growth.
Currently, Nigeria accounts for about a third of all malaria cases in the world. Pregnant women and children under 5 are still very vulnerable as malaria is a major cause of maternal and infant mortality. Grossly underrated, malaria is one of the deadliest diseases ever yet it's highly preventable and treatable if diagnosed early.
How can we beat malaria? Among the ways to preparation to beat malaria includes use of Indoor Residual Sprays, sleeping under an insecticide-treated mosquito net or use of mosquito repellent; early diagnosis and treatment of malaria infection and use of prescribed antimalarial medication.
According to the CEO of the RBM Partnership to End Malaria, Dr Kesete Admasu: "After a decade of success in pushing back malaria, it is on the rise again and will come back with a vengeance if we do not act decisively now.
"Half the world is still threatened by malaria, an entirely preventable, treatable disease which takes a child's life every two minutes. Worldwide action is needed to meet the 2030 target of reducing malaria cases by at least 90 percent.
"The progress is significant. Currently, 44 countries are reporting less than 10,000 malaria cases, however we must ensure we continue to press forward to end malaria—not only in high-burden nations but also those on track to eliminate the disease. It is our global responsibility to consign malaria to the history books."
Dr Winnie Mpanju-Shumbusho, RBM Partnership Board Chair comments: "This month has seen world leaders come together to renew commitments to step up funding and speed up innovations against the disease. It has been a truly momentous time in the fight against malaria, but the battle is not yet won. We also need citizen and community action around the world to drive momentum towards reaching global targets.
"The malaria fight is at a crossroads and we could be the generation to end the disease for good. If we don't seize the moment now, our hard-won gains will be lost. We're ready to beat malaria—are you?"
"World Malaria Day reminds us of the challenges that remain. The declining trend in malaria cases and deaths has stalled and vital funding for malaria programmes has flat lined. If we continue along this path, we will lose the gains for which we have fought so hard," said Director-General of the World Health Organization Dr Tedros Adhanom Ghebreyesus.
World Malaria Day  also inspired creativity from RBM Partnership partners worldwide, from music videos by the Nigeria National Malaria Elimination Programme to Japanese traditional theatre performances from Malaria No More Japan. Other exciting events held across the globe to celebrate World Malaria Day.
Following the London Summit, 53 Commonwealth member countries pledged to halve malaria across the Commonwealth within the next five years. Leaders from malaria-affected countries, businesses, donors and the international community made new commitments and urged Commonwealth leaders to get Ready to Beat Malaria.
This commitment from the Commonwealth could potentially prevent 350 million malaria cases and save 650,000 lives.  Impact of the renewed focus to eliminate malaria will be felt across Africa. Twelve countries affirmed their determination to eliminate malaria and announced new commitments. Nigeria committed to efforts to elevate malaria on the national priority list, including securing $300 million in new financing from the World Bank, Islamic Development Bank and African Development Bank to help finance their national malaria strategy. Nigeria also pledged an additional $18.7million to leverage $37million from the Global Fund to distribute 15 million mosquito nets and to support the local manufacture of essential malaria commodities.
Progress towards eliminating malaria globally and across Africa remains fragile and uneven. With progress come new challenges impacting the fight. With 90 percent of its population at risk, the Commonwealth is disproportionately exposed to malaria.
The world has made significant gains against malaria on the African continent. This progress has been the result of the sustained commitment from African leaders and the international community. But the gains made are fragile. Failure to sustain and strengthen efforts will have dire consequences. The Commonwealth has made a strong statement that it is ready to beat malaria. Are we ready indeed?