Arsenal legend Nwankwo Kanu was at the Emirates Stadium last weekend to bid long time Gunners coach, Arsene Wenger goodbye.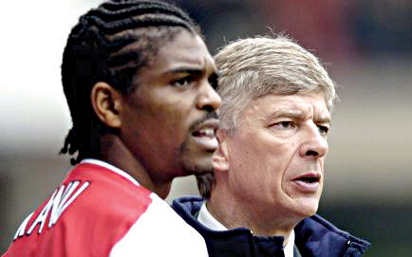 Kanu who was part of the invincible team 2003-04 submitted that following his heart surgery most managers didn't give him a chance to continue playing football, but Wenger did everything to lure him to North London.
''He was like a father figure for all of us. For me, when I was at Inter Milan he did everything to try to get me to Arsenal for six months. That's the kind of person you want to be and want to support,'' Kanu told Arsenal player, according to arsenal.com.
"At the time, nobody believed in me. They were like, 'You're coming out from hospital, can you play football?' But he believed in me and when I came here, I didn't disappoint him."
The former Gunners number 25 added : ''I love [the celebrations of him at the Emirates]. It's a very good show of respect. I've seen a lot of people wearing red saying 'Merci Arsène'.
"After the game, nobody left their seat. They're all here to support him, say goodbye and thank him for all that he has done for the club."
Wenger won ten trophies for Arsenal and Kanu helped him achieve success as he was part of the squads that won the Premier League titles in 2002 and 2004 and two FA Cups.