By Ayo Onikoyi
Nigeria-based Ghanaian actress, Juliet Ibrahim and Nigerian rapper Iceberg Slim have been an enviable item set for the altar. The lovebirds never hid their love for each other as they celebrated it at every given opportunity; social media, at events, or wherever.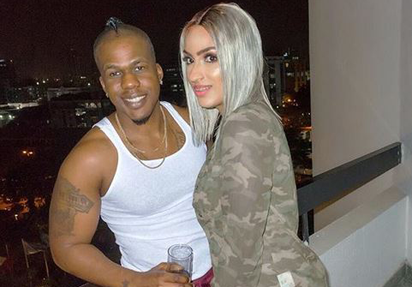 "Today, I celebrate you for the great woman that you are. I'm not a man of many words (as you know) but I want you to know that I love you with everything in me. You've taught me how to love, while you took another chance at love. I still get butterflies when I hold you. I still blush when you compliment me. I still get nervous when I try to impress you. My heart still skips a beat when you tell me you love me. You're everything I hope for, you're everything I need, you are so…wait, that's from a song ? lol. To my love, my world, my everything @julietibrahim Happy Birthday, beautiful".
These were the words of Iceberg when Juliet celebrated her birthday in March of this year. And Juliet has also described the rapper 'my king' in many of her social media posts. The couple were simply the envy of all in the entertainment circle until the devil got in the detail.
Before anyone knew what was going on, the mulatto actress had taken down all of Iceberg's pictures from her Instagram account which had hitherto littered her wall. In the same vein, some of Juliet's pictures (Not all) have disappeared from the rapper's Instagram wall as well. And that to many prying eyes could only mean one thing – break up!
Though the actress defended her action and allayed fears of breakup with with a post, saying "Dear fans and friends, months ago I decided it was time to face my day job and thus took off aspects of my private life off my social media handles. The only story here is that I decided to take any form of relationship I have off my social media and focus on my life and my career while juggling 2 countries. This move has sent the media crazy with insinuations about my private life. Please note that it is all about my day job on my social media handles going forward. If I need to let the world know about what's going on in my private life, be rest assured that you will be the first to know."
But not many were bought by her statement as her brazen refusal to address the issue of relationship breakup in itself is a sign of a crack somewhere in the relationship.
When Potpourri approached the rapper, it was another stonewall, glaring menacingly as he declined to say anything of substance.
" Boss, all is well," is all  he said.
Then, when Juliet posted another piece that seemed like a snide directed at the rapper that she doesn't follow dreams, but hunt goals, Potpourri called the attention of the rapper to it again and his reply was a bit forthcoming.
" That's fine. I don't want to talk about the relationship any further, in any interview or publication. I just dropped the 'Oluwa' remix with Reekado Banks and Oritsefemi and that's news worth, isn't it?" he said.