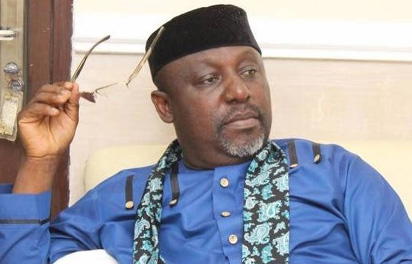 Rochas Okorocha
OWERRI—THE socio-economic backwardness of Imo State has been traced to the huge debt profile accrued by the present administration in the state.
The former Deputy Speaker, House of Representatives, Chief Emeka Ihedioha, disclosed this yesterday, while addressing Peoples Democratic Party, PDP, stakeholders in Ohaji/Egbema local council area of Imo State.
"The state is presently owing N103 billion in local debt and $63 billion in external debts. This excludes debts owed contractors by the state government, as at end of 2017," Ihedioha said.
According to Ihedioha, "Adapalm that was the pride and money spinner in Imo State, has sadly become moribund and the same is also true of Imo State Oil Producing Areas Development Commission, ISOPADEC."
The former lawmaker was also irked "there is no single project in Ohaji/Egbema local council area, started and finished in the past seven years, by the Rochas Okorocha administration".
He equally fumed that all the monies accruing to the 27 local government areas has remained unaccounted for in the past seven years.
"Imo needs to be liberated from misgovernance and blatant lies told by the present administration. Imo has been run aground. Schools have become moribund and this is sad", Chief Ihedioha said.
Welcoming Ihedioha and his team earlier, the State PDP Publicity Secretary, Mr. Damian Oparah, recalled that "when the party was embroiled in crisis, it was only Ihedioha that stood firmly by the party".