By Prince Osuagwu
Two Federal University of Technology, Akure (FUTA) Engineering Undergraduates, Taofeek Olalekan Afeez and Alayande Abdulwaheed Abiola, have emerged winners of this year's Imagine Cup National Finals in Nigeria.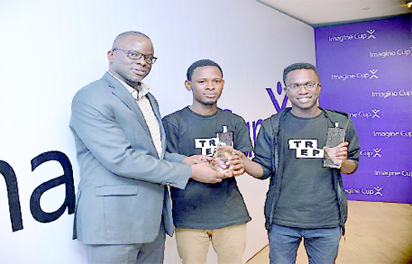 The two undergraduates of Physics Electronics & Electrical Electronics who jointly formed TEAM TREP presented a solution called Real Drip, a device that reduces the risk of blood clot or deep vein thrombosis.
The non-invasive device monitors the flow of intravenous fluid during IV treatment and notifies medical staff in real time. The device monitors the rate at which intravenous fluid drops (flow rate) and notifies the medical staff on duty in real time, for the timely removal of intravenous needle to prevent back flow of blood which may lead to pulmonary embolism if necessary action is not taken on time.
Principal Azure Apps & Infrastructure Lead, Microsoft Nigeria, Mr. Damola Solanke,
Who was the Chief Judge of the competition, said the winning idea was assessed based on four key areas – Technology, Innovation, Concept and Feasibility.
He said: "We would like to commend TEAM TREP for satisfying the requirements of the competition. Their idea was well articulated and we look forward to seeing more home grown solutions to our pressing needs as a country."
On behalf of the winning team, Taofeek Olalekan Afeez, expressed gratitude to Microsoft for the opportunity and said his group was looking forward to the global stage of the competition: "We are excited about this win. We would like to thank Microsoft for this opportunity. We look forward to competing at the global stage and do our country proud."
Now in its 16th  year, Imagine Cup, aims to give young developers the opportunity to acquire critical technical, business and team-building skills, while having fun along the way.
General Manager, Microsoft Nigeria, Mr Akin Banuso, said: "Today's students will build and change the world, as we know it. At Microsoft, we believe this new generation of innovators have the potential to address some of humanity's most pressing problems; from how to predict and monitor diseases like Alzheimer and depression, to identifying 'fake news' or increasing response times during natural disasters."
Subscribe for latest Videos