By Iyabo Aina
Ifiok Effanga, who hails from Akwa Ibom has worked with a host of A-list artistes in Nigeria's music industry. Known for his contribution using the guitar, he speaks on how the spotlight found him.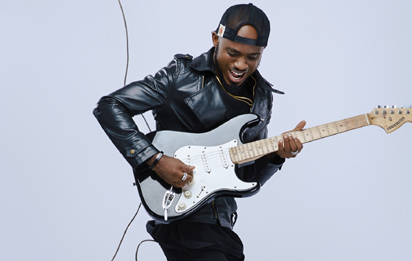 Growing Up, Family, Inspiration & More
Let's get to know you personally. What are your names?
Ifiok Effanga
Tell us a bit more about your educational and family background? What were you like growing up?
I studied mechanical engineering at Petroleum Training Institute, Effurun, Delta state. I hail from Akwa Ibom state, from a family of 6.
What are your hobbies?
Watching football, playing the guitar and reading news
Career Talks
How did this new creation "Been a Guitarist" enter your mind for the first time? When did you develop your passion for music and playing guitar?
I started at a tender age when I was in the church choir where I started singing solfa notations, then after my SSCE, I decided to pick an interest in learning the guitar from a taxi driver in the year 2000. Our lessons used to be at night from 8pm to 10pm for 2months before I stopped due to lack of funds to pay for more lessons. I started playing for different churches to have access to their guitars and to improve my skills, and then I moved to Warri in 2003 for school and also used guitar as a backup hustle then. In 2008 I came to Lagos to a reality show called Star Quest and won with my group "Diamonds", that was when I came into the industry and the journey with my guitar began. I've always wanted to be a brand to reckon with.
Discuss the various projects you've worked on since you started till date?
The first hit song I worked on was Scape Goat by Dbanj; Away and Applaudise album by Iyanya. Kissing, Ferrari and others by Yemi Alade. All the guitars on Simisola album by Simi. Gold album by Adekunle Gold; Thankful and Ijele The Traveller album by Flavour; Woju, Laye and Goodtime by Kiss Daniel; God Over Everything (GOE) album by Patoranking.
What inspires you? And how do you always differentiate your sound from others?
All my life I've always asked myself why are people like George Benson, Earl Klugh popular. Then I realised they had their unique sound that made them stand out. So I decided to pay attention on how to make sure I have my own unique sound and started working on it. So with time people started telling me that they like the way I sound rather than telling me that I remind them of someone. That was when I knew I got something different and unique and that has really helped my career.
Did you have any experiences or encounters that reaffirmed your talent and made you realize this was what you should do long term?
Yes! When I was in school, my colleagues always said to me "bro this your guitar might take you farther than what you studying here", but I needed to finish my studies so people won't think I'm an illiterate.
What are your other plans yet to be unveiled this year? What does FIOKEE have in store for us?
I'm working on my projects now trying to represent Africa as a brand guitarist by bringing artists that I've worked with over the years to collaborate with and make magic together. I have a song with Reeekado Banks and Tiwa Savage called 'Like', another one which I featured Flavour called "Very Connected", and "Independent Woman" ft Jumabee and I got more great collaborations this year, so be on the look out!
To be a successful Artiste/Instrumentalist (Guitarist), what qualities and skills does one need to possess?
You need to define yourself, create spare time to do something that hasn't been done before so that you can stand out from the crowd. You will definitely succeed though hard-work and grace.
What's the most interesting thing about you that we wouldn't learn from this interview alone?
Simplicity
If we finish this interview and you step outside the office and find a lottery ticket that ends up winning $10 million will you still continue with you career or go ghost and start a new life?
(laughs)…you people want to set me up abi!
How can fans of good music and lovers of FIOKEE keep in touch with the brand?
Well you can always keep in touch with me via my various social media handles. facebook, twitter & instagram – @fiokee. I'd love to connect with you too, so feel free.