Stories by Princewill Ekwujuru
THE increasing population of Nigerians embracing bottled water in order to avoid the health implication of drinking unsafe water is boosting growth in the bottle water market, prompting producers to adjust marketing strategies to increase market share.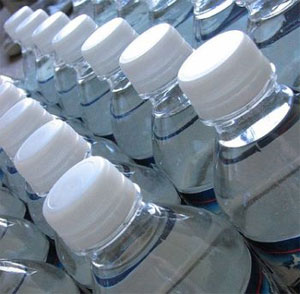 Other factors prompting bottled water producers to readjust their marketing strategies include price, market development (which redefines the target market and involves expansion of the potential market to new customers or users) and market penetration (which is competition to capture a greater market share of an established customer base).
In addition to these are increased urban population, market size, and product availability, lack of safe and clean drinking water, and establishment of fringe bottled water companies and the incursion of major beverage companies into the bottled water business.
C&M investigation revealed that the bottled water market has been enjoying rising demand occasioned by health and hygiene concerns, multiple distribution channels and social acceptance of bottled water. These factors are reinforced by the country's humid climate with temperature ranging from 30 to 40 degree centigrade.
Many of the beverage companies that entered into the bottled water business have also introduced innovative packaging for competitive advantage.
They also offer promotional activities with tie-ins like additional water packs, branded umbrellas, tables and bags as incentive to attract or retain prospective and existing consumers.
The sachet water market has 3,862 producers competing for market share which includes Cubby, Pukka, Total, Kins and others.
As a result of these factors, the companies have changed their marketing tactics by not only supplying to highbrow cities, big hotels and restaurants, but now take the products directly to distributors, especially the market leaders.
However, the contenders for market share include Nigerian Bottling Company, NBC/Coca Cola Nigeria Limited, CCNL, producers of Eva water; SevenUp Bottling Company, SBC, producers of Aquafina and H2O, a flavoured water; CWay Nigeria Limited, producers of CWay bottled water; KRS Investments Limited, a member of Artee Group, producers of Cascade bottled water; Nigeria German Chemical, GMC Plc, producers of Sparwasser bottled water.
Others are UAC Nigeria Plc, producers of Swan natural spring water; Nestle Nigeria Plc, producers of Nestle Pure Life; La Casera Company Limited, manufacturers of Nirvana, Giant Beverages Limited, producers of Vitamin Water and a few others.
Of this number, major contenders for market share are CCNL, SBC, GMC,UAC and Nestle Nigeria. Their products have undergone various repackaging and labelling processes, and quality tests, which  position  them as premium brands. Others are positioned  as mass market products, using price.
Price
For example, retail price of 50 centilitre of Aquafina and Cascade bottled water sell for N50, while the retail price of 75 centilitre of Spawasser, Swan, Aquafina, Cascade and Eva sell for N60, N80, N55, N50 and N70 respectively.
Besides, the bottled water market is saturated, with other fringe contenders competing heavily for more market share, resulting in product segmentation.
The segmentation is by product types and distribution channels. By product type, the market is sub-segmented into Still water. Still water is the largest sub-segment of bottled water, accounting for larger demand, followed by carbonated water; others are flavoured and functional water.
Flavoured water consist of water, natural or artificial flavourings, and sugar or artificial sweeteners. Some also contain caffeine or added nutrients, such as vitamin C.
Functional water is any brand of H2O "enhanced" with special ingredients, like herbs or antioxidants that supposedly bring health benefits.
Product innovation in terms of flavour and packaging has also triggered the flavoured water demand according to distribution channels type.
Consumers speak
Managing Director of Azus Enterprises, Okechukwu Nwaiwu, distributor of different water brands in Oke-Arin market, Lagos Island said: "The bottled water business is fragmented due to the presence of multinational label brands and local bottlers occasioned by the hot weather."
Ms. Amudat Lanre, a consumer said: "When people are spending money on water, they think they are buying spring water."
Expert speaks
Responding to Amuda's statement, Mr. Kanso Abaribe of Soulmate Water Enterprises said: "Not true. All water is natural. Consumers do not care what the source is. They care that it is consistently good, high quality, and consistently pure."
Companies speak
Corroborating Abaribe's defense, Victoria Uwadoka, Corporate Communication and Public Affairs Manager for Nestle Nigeria said: "At Nestle, we are dedicated to enhancing quality of life and contributing to a healthier future for individuals and families. We are committed to improving livelihoods in our communities and to protecting the environment for future generations.
Each day, we strive to make our products tastier and healthier choices that help consumers care for themselves and their families, thus earning their trust and recommendations to others. This would not be possible without our unmatched research and development, R&D capability, nutrition science and passion for quality in everything we do."
Speaking, Director, Corporate Communications, NBC, Sade Morgan said: "In NBC, we offer Eva water brand, processed water, which is subjected to filtering and purification treatments before being bottled. Eva complies with the rules of the National Agency for Food, Drug Administration and Control, NAFDAC.
Across the Coca Cola Hellenic Group, an extensive range of water brands provide consumers with additional choice when selecting safe, appealing ways to obtain refreshments and the hydration necessary to lead a healthy, well-balanced life.
A top source in SBC said Aquafina is just tap water that originates from public water sources and is purified through a rigorous, seven-step purification process called Hydro-7. He said Hydro-7 is a process that includes reverse osmosis and other filtering methods that removes chlorides, salts and other substances that can affect the taste of water."