The Federal Government Enterprise and Empowerment Programme (GEEP) MarketMoni scheme has successfully reached over 350,000 micro enterprises in all 36 states of Nigeria, and the Federal Capital City. This was revealed on Thursday, at the Kano State's edition of Micro Small and Medium-scale Enterprises (MSME) Clinic by the Executive Director of Bank of Industry (BoI), Mrs. Toyin Adeniji.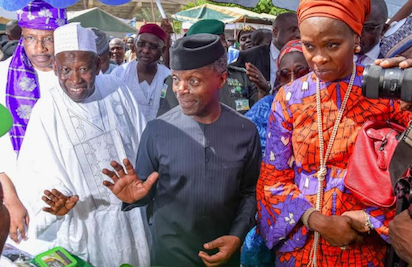 Yemi Osinbajo
GEEP MarketMoni is a Federal Government Social Intervention Programme (SIP) that provides interest-free loans of N10,000 to N100,000 to microenterprises, the segments of society with the greatest difficulty accessing credit. The scheme, which is executed by BoI, a parastatal of the Federal Ministry of Industry, Trade and Investment, directly impacts traders, market women, artisans, and farmers nationwide.
To assess the impact of the scheme, the Vice President Yemi Osinbajo met with a section of about 12,000 beneficiaries from Kano State during the state's edition of MSME Clinic on Thursday.
The Special Assistant to the Vice President on MSME, Tola Johnson, said "The best thing that has happened to micro businesses in Nigeria is the GEEP MarketMoni programme. It dealt with their collateral challenge because all they need is their data, a bank account and Bank Verification Number (BVN)."
Johnson added that out of the 37million small businesses in Nigeria, 36.9 million are microenterprises. "This informed the Federal Government's attention to this space. Micro enterprises are responsible for almost 50 per cent of the country's Gross Domestic Product and 80 per cent of the workforce," he added.
Toyin Adeniji, the Executive Director of BOI revealed that under the GEEP MarketMoni scheme, BOI has given out more than 350, 000 microcredit loans across the country. "GEEP MarketMoni has given people who otherwise have no access to finance, money to finance their businesses. These micro enterprises are expanding their businesses, making more profit and employing more people".
"Most of our beneficiaries are women, some of whom are widows and single mothers. We are improving the quality of their lives, their children's lives, their health and even education. We are seeing very quantifiable impacts. No government has ever done this," she added.
Speaking with journalists in Kano, the Head of Agent Networks, Sherifat Abdullahi, who interacts directly with agents, association heads and the beneficiaries said, "Apart from the 350,000 direct beneficiaries across the country, it has created employment opportunities for over 5,000 Nigerians who act as MarketMoni agents, some of whom are graduates, previously unemployed."
Sherifat added, "As someone who has direct contact with the beneficiaries, this has been a very emotional journey for me, watching how this interest-free loan scheme is changing the lives of people, especially women and the vulnerable. We truly appreciate the Federal Government for doing this."
The National Bureau of Statistics reports that there are at least 37 million MSMEs in Nigeria, 85 per cent of which lack access to funding. It is in a bid to address this challenge head-on that the President Muhammadu Buhari-led administration established MarketMoni – the Government Enterprise and Empowerment Programme (GEEP), a social intervention programme aimed at reinvigorating the economy at the base of the pyramid, the hotbed of Nigeria's financially vulnerable.
To benefit from the scheme, applicants just need to apply through their registered Market Associations and Cooperatives, have a Bank Verification Number(BVN), and a mobile phone. The loans range from N10,000 to N100,000, and are expected to be repaid within a 6 months period without interest.
Apart from GEEP MarketMoni, the three other Social Investment Programmes embarked on by the Federal Government include the School feeding programme, Conditional Cash Transfer to less privileged and N-Power.