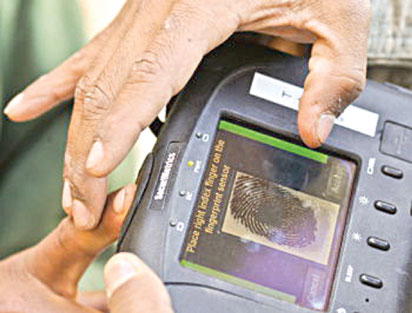 •How CBN's know-your-customer mandate to banks fuel growth
•Innovators tailoring products towards current trend
By Prince Osuagwu (Hi-Tech Editor)
In the current digital era, the human finger is fast becoming more important than the whole body. This is considering the almost impenetrable security feature it presents.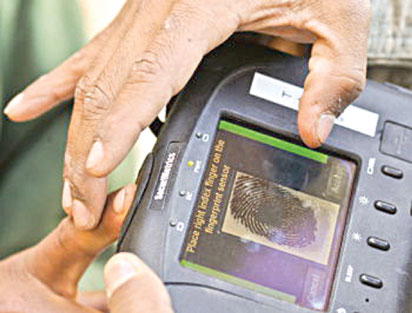 Due to the mutually exclusive and authentic signature feature, digital thumbprint has almost become a revolution. On a daily basis people are being asked for their thumb prints; at work, during bank transactions, application for statutory documents, national identity registrations among others.
The phenomenon of digital thumbprints as authentic signatures is a rising trend that won't change anytime soon. This is underscored by the rise in biometric registrations, moves to integrate national databases, touch-pad automations, use of thumbprint scanners, ATMs, devices and general innovative tech solutions.
Since the evolution of conventional banking, the fingers of customers have never been as important as it is today. Aside fingers now being functional in unlocking doors and phones and signing signatures, they even secure bank savings. Thumbprint scanners are considered the second most popular biometric devices by consumers around the world according to research undertaken by the 2016 Future Password Index.
This research was defined by how interested people were in using fingerprints to verify their identity when handling their devices, banking and other forms of security. Thumbprint biometrics solutions witnessed steady rise in popularity from 2014 to 2016 and remain one of the most trusted today, mainly because signatures are eternally exclusive per identity.
Bank heads are also coming to grasps with this new reality, that the bank customer's thumbprint has become a coded key to ease processes, save cost on expenses, fast-track on boarding, validate identities and boost bottomline.
Tech innovators are also tailoring their inventions towards this growing trend to enable them become part of the bursting revenue growth it portend between now and 2022.
According to the new market research report  "Biometric System Market  by Authentication Type, biometric system market size is expected to increase from USD 10.74 Billion in 2015 to USD 32.73 Billion by 2022, at a CAGR of 16.79% between 2016 and 2022.
The growth is necessitated by many governments having set some stringent rules and regulations in the banking, travel and immigration sectors to improve the overall security. Countries such as the U.S. and the U.K have passed some stringent laws. In the U.S., according to Enhanced Border Security and Visa Entry Reform Act of 2002, it is mandatory to use biometrics in visas. This factor would drive the growth of biometric system market in the travel and immigration sector. Moreover, countries such as Japan, Singapore, and the U.S. have deployed biometric systems in airports to improve the overall security.
Meanwhile, Nigeria's banking sector regulator, the Central Bank of Nigeria, CBN has also mandated banks to carry out 'Know-Your-Customer (KYC)' audit of customers.
This policy, introduced the Biometric Verification Number, BVN system in place in the country's banking sector now.
Apparently trying to cash in on this growing sector, a frontline identity management solution provider Seamfix technologies, said it has developed a special biometric solution it called BioRegistra. It is a solution that helps any discerning business boost business via the coded key. BioRegistra is a wholly indigenous developed solution used by individuals, organizations, in industries that need to gather data, using forms and biometrics, to make data driven decisions.
Official of the company, Sero Darigho, listed some of the reasons the new trend would continue to spin money that could revitalise the economy if well nurtured.
"Airport Security: Imagine that flight check-in or identification in Nigerian airports happen simply by digital thumbprint verification matched against the immigration database, all in less than 10 seconds. The technology for this already exists on the Seamfix KYC platform stack. This works where data and available biometric technologies are deployed to verify passenger identities. These ideas are already being utilised to forestall security breaches in several large international airports and the technology is quickly spreading to other locations across the globe. Using the technology, fast-tracks passengers' journey through airport terminals; it makes life easy and security searches very seamless.
"Time and Attendance: the workplace is fast changing, especially workforce management. This field has witnessed increase in the use of biometrics to manage cases such as "fraudulent employee time and attendance activities". These are common phenomenon among civil servants where productivity is unsatisfactory compared to private firms.
Banking – transaction authentication, thumbprints-biometrics has increased a great deal in the past few years and is being implemented by banks throughout the globe. As global financial entities become more digitally-based, banks are implementing biometric technology to improve customer and employee identity management in an effort to combat fraud, increase transaction security, and enhance customer convenience.
However, not all thumbprint systems are created equal. There are important differences between specific systems, their capabilities, the data they access and the data they share.
"Some biometric solutions are not linked to a shared network, so you could transact at your bank or enter your office park with your unique identity, but this information will not be shared anywhere else. The data is captured and secured by each individual system to ensure absolute security and controlled access.
"In simple terms, with biometric verification you are asking – 'Am I who I claim to be?' For example, once your thumbprint has been submitted to a specific database, an identification application would compare it against a larger database of thumbprints that are associated with identities. If your thumb/fingerprint is found within that database, then the question of 'Who am I?' has been answered.  This is biometric identification in a very simple nutshell.
On the other hand, when it comes to biometric verification and proving an identity, there is a need to add in some extra factors that can support the process and make it more secure. These can be account numbers, credit cards, or even smart devices.
This implies that the system pulls up such biometric data associated with your thumbprint and attempts to make a match. It's important to note that the verification process doesn't examine all thumbprint data for all users to find a match. Instead it checks to see if the thumbprint template that's presented to the system is the same one that was originally enrolled, and it provides a quick answer.
Thus, banks and the clearing houses like Interswitch can't afford not to deploy biometrics solution that carefully captures all forms of data and for seamless usage. One solution that does this very well is BioRegistra which offers support for business decisions, export to platforms of your choice, generate CRM reports to enhance customer relationship, and so much more.
He said that as a Biometrics and identity management company, Seamfix runs a stack of  other flexiblehome-grown Know-Your-Customer (KYC) and verification platforms including BioRegistra, Verified.ng and BioSmart, among others for telecommunication companies, real estate, banks, agro-allied institutions, education, security, governments, international agencies among others.