By Chris Ochayi
ABUJA—FEDERAL Government has committed a total sum of N300 billion for construction and reconstruction of various highways across the country under the Economic Recovery and Growth Plan, ERGP, Minister of Power, Works and Housing, Mr. Babatunde Fashola has said.
Fashola, yesterday, in his keynote address at the 4th Quadrennial Delegates Conference of the Petroleum Tanker Drivers Branch of NUPENG, in Abuja, said the nation's highways were receiving tremendous attention from the current administration unlike the previous regimes.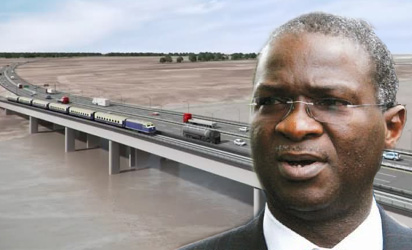 The minister also said that his ministry was on the verge of getting procurement for the reconstruction of the Apapa-Mile 2-Wharf road.
The minister identified over-speeding by motorists as the highest cause of road crashes across the country, contrary to overwhelming belief that the poor state of the roads was the major cause.
He said," What has changed under  ERGP, is that the Buhari government has committed close to N300bn to roads and spent about N260bn at a time when oil prices are manifestly below the 2015 figures.
"If you think this is not important, let me remind you that in 2015, only N18bn was budgeted for all Nigerian roads in the Ministry of Works. Only N9bn was funded at the time, when Nigeria's oil was selling at close to $100 per barrel," he recalled.
He identified six priority areas in his road development agenda, including the ones that connect agricultural produce areas, those that lead to petroleum tank farms and depots and comprehensive bridge repair programme, among others.
He disclosed that no state of the federation was left out in the roads development programme of the current government, putting the number of roads currently under construction nationwide at over 300, even as he stated that contractors had gone back to sites on major road projects across the country.
Admonishing tanker drivers to ensure safety on the roads by eschewing unhealthy traffic behaviours, including taking those things that 'clear their eyes,', the minister assured that his ministry was desirous of bequeathing better road network across the country.