By Omeiza Ajayi
ABUJA —TWO national leaders of the ruling All Progressives Congress, APC, Asiwaju Bola Tinubu and a former governor of Osun state, Bisi Akande, Tuesday in Abuja met with all the 33 aspirants contesting the party's governorship ticket in Ekiti State as part of efforts to produce a consensus candidate for the election.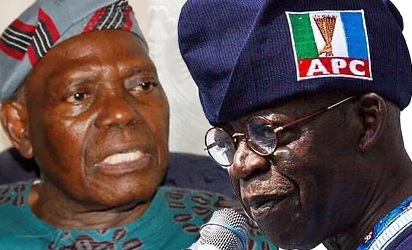 The meeting, which came in the aftermath of Saturday's primary election that ended in a fiasco, was held last night at the Lagos State Lodge in Abuja.
It also had in attendance former governor of Ekiti State, Otunba Niyi Adebayo; former governor of Ogun State, Segun Osoba and many other APC South-west leaders.
Addressing newsmen after the closed door meeting, which lasted three hours, Chief Akande, said the resolution of the closed door meeting with all the aspirants will be communicated to the party.
Akande said: "We took a decision on what will be the best advantage to our party and the country. Consensus is already written in our constitution and it is an option. Also, primary election is already in our constitution. But what we want is the general happiness of the leaders of the party, the contestants and our party."
On whether the aspirants agreed to step down for one of them, he said "that option is given to them, but it requires them going back, think about it and inform us."
Asked whether there will be a fresh primary election, he said: "We are going to talk to the party about what the aspirants have said and what we all thought was best and we know that the party will take the right decision.
"The party chose the old date, chose the modalities and the method of doing it and when it was aborted, the party cancelled it. Who am I to say I disagree with that? I was not part of that process. I am now going to be part of the new process so that we don't have the kind of problems we had."