By Elizabeth Adegbesan
NIGERIA has a huge number of dormant bank accounts which stood at 38.3 million at the end of March this year.
Some of these dormant accounts belong to Nigerians who now reside abroad. The accounts were opened and operated before they travelled abroad. However, due to the barrier of distance and regulation, they abandoned the accounts once they are out of the country, and as a result, the accounts become inactive or dormant.
To address this challenge, banks have introduced services that provide opportunities for Nigerians living abroad (Diaspora Nigerians) to continue to operate their bank accounts from anywhere in the world. While some banks call this service Diaspora Bank Account others call it Non-Resident Nigerian (NRN) Bank account.
One of the features of this account is that, the banks allow Nigerians who wants to reside out of the country for more than 180 days, to convert their existing bank accounts into a Diaspora/NRN account. Thus they do not need to abandon their existing bank accounts with their bank, and hence avoid the risk of the account becoming dormant.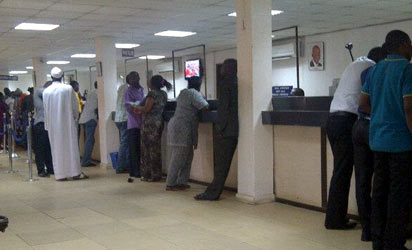 It also allows you to access  any kind of account such as a Diaspora savings account , current account , joint account , domiciliary account and so on depending on your bank.
How to convert your existing account to a Diaspora account
The following are procedures you need to follow when converting your existing account to a Diaspora account. This is also applicable those opening a Diaspora account.
Step 1: For conversion of existing account to Diaspora account, you will complete your      banks' migration of account form online or in person. For you opening a new Diaspora account, you will complete    an account opening form of any Nigerian bank of your choice online or in person. You are also required to complete    online and present an indemnity form (for email, fax and scanned copy).
Step 2: Provide the following required documents to proof you are residing or working abroad
      Proof of identity: A notarized/sighted copy of any of the following identification: a valid Nigerian passport, valid international passport – supported by proof of Nigerian origin (birth certificate, expired/valid Nigerian passport or driver's license, e.t.c), valid Nigerian driver's license and passport photographs, Nigeria Voters ID card, residence or work permit (if nationality is Nigeria) and foreign passport ( if place of birth is Nigeria).
   Proof of Residential address: A notarized/sighted copy of any of the following: duly completed banker's confirmation, copy of utility bill issued within the last three months showing the same address as supplied and bank/credit statement issued within the last three months showing your address.
      References: Two acceptable references using either of the following options:
i:   An independent reference letter obtained from current bankers (foreign) and a signed reference form by a Nigerian attestor who maintains a current account with a Nigerian bank.
ii: Two signed reference forms by Nigerian attestors who maintain a current account or corporate account with a Nigerian bank.
Note that there are no charges associated with converting your existing account to a Diaspora account.
You can access your Diaspora account abroad through the following channels:
Automated Telling Machine (ATM) cards be it Naira or dollar denominated, debit card or prepaid cards, through the ATMs, PoS terminals and internet from anywhere in the world.
Online banking to transfer funds within any bank in Nigeria. However you would need a physical token device for effective transfers and payment of bills.
Mobile banking to access your account through your phone.
Email alert
Issues and limitations
Like the normal Nigeria bank account, you can perform and access any banking transaction/ products with your Diaspora account ranging from transfer and withdrawal of funds/remittances, payment of utility bill, receive credits, e-banking, among other banking services/products.
When operating a Diaspora account, your funds are converted to Naira equivalent of the currency you deposited in your account. The conversion depends on the exchange rate of the naira on the day you made the transaction.
Importance of migrating an existing account to a Diaspora account.
It is important to convert your existing bank account to a Diaspora account when you relocate abroad. Your inability to access your existing account while you are away will make your account dormant depending on the period of your absence (for two years). When your account becomes dormant it generates debt.   This is because it is still subjected to fees, maintenance charges and other charges and this can put your account in negative balance.