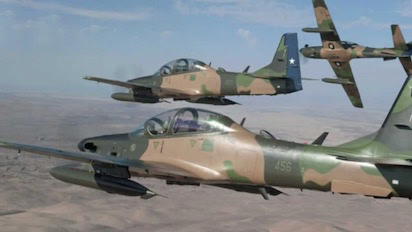 Super Tucano
By Emmanuel Aziken, Political Editor
The controversy surrounding the purchase of 12 A29 Super Tucano aircraft by the Nigeria government has deepened with the United States rebuffing enquiries on the purchase price of the aircraft.
The controversy over the purchase price of the aircraft was the latest hullabaloo over the purchase of the aircraft by Nigeria which is meant to effectively decimate the Boko Haram insurgency in the North East.
The Nigeria government is currently enmeshed in the controversy over the manner of the payment for the aircraft without appropriation by National Assembly, a development that stirred mutterings by legislators who want the president sanctioned over the issue.
Also, Nigerians have also been stirred by the 2020 delivery date for the aircraft which some argue could mean allowing the insurgency to fester into the life of the succeeding administration.
However, the purchase price of the 12 aircraft at $496 million, meaning $41.3 million each, had been flayed as exaggerated compared to the price the same aircraft was sold to other countries. Each A29 Super Tucano aircraft is reported to cost between $9 and $18 million depending on configuration.
Contacted on the development, the United States Mission in Nigeria, however, drew back from commenting on the controversy.
"Questions pertaining to total cost, payment and delivery options should be referred to the Nigerian government," the United States Mission in Nigeria said in an e-mail message to Vanguard.