Akure – Gov. Oluwarotimi Akeredolu of Ondo State says athletes from the state who won medals at the just concluded Commonwealth Games in Australia will be rewarded.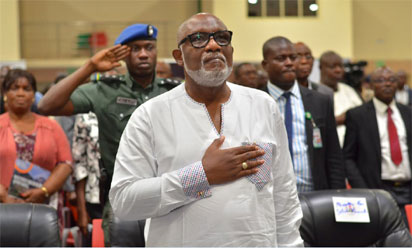 Akeredolu disclosed this during a fund raiser and inauguration of the National Athletics Development Centre by the Nigeria Sports Development Fund Inc. (NSDFI) on Monday evening in Akure.
"Going to the Commonwealth and winning medal is not easy, that is what the minister of sports said.
"If each state had won two medals at the event, the country should have topped the medals table," he said.
The coach and athletes to be rewarded are Purity Akuh, a wrestling coach with the State Sports Council and national coach, Aminat Adekuroye and Odunayo Adeniyi, gold medal winners as well as Bose Samuel, a bronze medalist.
The athletes won medals in the wrestling event at the Games.
Commenting on the Centre, Akeredolu said the initiative would engage the youths of the state positively.
The governor noted that the programme was bound to succeed because the money would come from the masses and not government.
Akeredolu encouraged people of the state and the country at large to key into the programme as it would benefit both the rich and the poor.
Earlier, the Minister of Youth and Sports Development, Solomon Dalung, said the funds from the programme would go a long way in preparing athletes for the 2020 Olympics.
Dalung, represented by Mr Ademola Are, Director, Federation and Elite Athlete Department of the ministry, said the programme was a practical example that 'government cannot do it all'.
The minister said that a similar programme was initiated in 1994 and before the 1996 Atlanta Olympics, urging people to see it as a Nigerian project.
Also speaking, the state Commissioner for Youth and Sports Development, Saka Yusuf-Ogunleye, said the programme and community lottery scheme was a partnership between Ondo State Government, Athletics Federation of Nigeria and NSDFI.
According to Yusuf-Ogunleye, one of the benefits of the partnership was establishment of sports facilities in the three senatorial districts of the state.
The Director General of NSDFI, Mr Olajide Fashikun, said the launch had a target of raising N900 million for 90 athletes in five sports for the Olympics.
Fashikun said that the programme only needed 4.5 million Nigerians to donate N200 only in 90 days for the dream to come to reality.
"For every of the 90 athletes, we shall as a nation give them what it takes to rule the world. The last time we did this was 1994 when our fund supported those preparing for 1996 Atlanta Olympics Games.
" We shall repeat the feat. By the last day of July 2018, we want to make sure we have delivered on this task," he said.(NAN)