By Roses Moses
The ban on production of syrups containing codeine in Nigeria wasn't exactly the topic I intended to write on this week. President Muhammadu Buhari's recent visit to the United States of America (USA) actually looked more like it.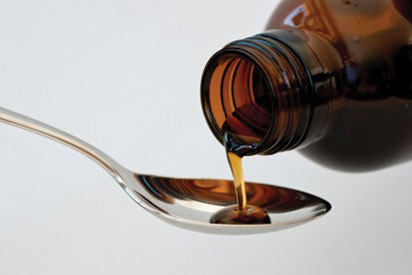 Considering the fallout from similar visits in the past, how our president portrayed the country and Nigerians, this time, was kind of appealing.
Coming few days after the dust raised by his calling 'most' Nigerian youths lazy in London was yet to settle, the urge to look the way of the visit to American was strong.
But then, Director General of the National Agency for Food and Drug Administration and Control (NAFDAC), Prof Moji Adeyeye, would show up on a television programme.
Subject of discussion centred mostly on the ban by the Federal Ministry of Health on production of syrups containing codeine in the country the previous day, a development that was coming against the backdrop of widespread addiction and abuse of the syrup.
And that took my thoughts away from the US visit.
It is worthy to note that before now, it was not illegal to drink or manufacture the syrup. It was however against the law to sell the syrup to people without a doctor's prescription or to those that do not have pharmaceutical license.  Also, although codeine is imported, the syrup is made in Nigeria by many pharmaceutical companies.
With Tuesday, May 1, 2018 directive by the Minister of Health, Professor Isaac Adewole, a stop was put to further issuance of permits for importation of codeine as an active pharmaceutical ingredient for cough syrup preparations 'with immediate effect.'
The new directive mandated NAFDAC and other relevant bodies to collaborate for effective implementation of extant acts, regulations, policies, and guidelines on codeine control and usage.
Dextromethorphan, less addictive than codeine, will now be used for production of cough syrups in the country, said the Health Minister.
His directive also included plans to partner with National Orientation Agency (NOA), Nigeria Football Federation (NFF), Football celebrities, members of the Actors Guild of Nigeria, Performing Musicians of Nigeria and other celebrities to drive national campaign against drug abuse.
A British Broadcasting Corporation (BBC) documentary on 'how cough syrup in Nigeria is creating a generation of addicts,' last week, further raised awareness on the cough syrup epidemic that affects Nigerians from all social groups.
I recall asking an attendant at a pharmacy store what the hullabaloo then was about codeine and cough syrup, and was informed that most young boys and women causing commotion then at the store were addicted to the cough syrup.
They had come to the store for the syrup and when asked for a doctor's prescription, they got nasty and violent, to the point of trying to fight the attendant. Prodding further, I was also told that the addicts cut across social lines, tribes and religions, including the elites and the powerful in the society.
They often conceal the syrups in bottles of soft drinks, and at times mixed them with the soft drinks.
Like all opioids, codeine, which is in the same chemical family as heroin, codeine is an effective painkiller and capable of giving one a euphoric high, if consumed in large quantities.
Experts say it can have a devastating impact on the mind and body of those addicted. In addition to kidney damage and seizures, serious abuse of codeine cough syrup can trigger mental psychosis such as delusions, hallucinations, and even schizophrenia, thus rendering most of the addicts useless.
Against this background, the ban on the product may be a welcomed development, but ban alone is not enough, considering that most banned items and goods have always found their way back into the markets.
Moreover, there are many other dangerous and addictive substances outside of codeine that are still freely consumed on the streets and motor parks across the country.
That is why the root causes of drug abuse must be addressed alongside ban because a country, as they say, cannot be better than her youths.
What should be paramount to those in authority should be a lasting solution to substance abuse for a country with a widening youth bulge, where more than half of its population is made up of people around the age of 30.
The social, psychological and environmental factors driving young Nigerians into substance abuse need to be identified and tackled.
If substance addiction is about escapism, Nigeria needs to find out what exactly it is that its youth population is obliviously trying to escape from via chemically-induced euphoria and ecstasy.
Unless and until these questions are addressed which largely boils down to poverty, illiteracy and unemployment, and for as long as criminal elements exploiting the vulnerability of these youths for financial gains abound in the society, the banned substance, like many others banned before it, will only be relocating to the black markets, where it may possibly gain higher patronage.