*I am not a wizard, she beats me bcos I cut my slippers- boy
By Evelyn Usman
The pitiable sight of a fragile eight-year-old boy, with marks of violence all over his body sent waves down the spines of those present at the Lagos State Police command yesterday.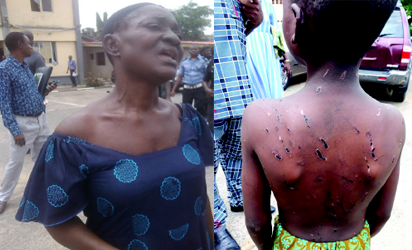 The visible marks of violence were inflicted on the primary 1 pupil identified as Chinonye Iyonetu, by his aunt, Mrs Charity Iyoneto, over accusation of witchcraft.
The victim as gathered was brought from his home town, in Gbaai, Nkota Local Government Area of Imo state, last year, by the suspect , after his mother abandoned him with his father.
However, his ordeal began on reaching Lagos, as the suspect allegedly beat him at the slightest provocation.
But the inhuman treatment came to the fore after a resident who could not bear the sight of the marks of violence on the suspect , contacted the Police.
The suspect according to the Commissioner of Police, Lagos State Police Command, Imohimi Edgal, "used horse whip, a.k.a koboko to flog the child, inflicting injuries all over his body, on May 9,2018.
She thereafter, locked him in her one room apartment at Animal Kingdom, close to Seme Border, Lagos, with his two hands tied behind his back and left for her shop.
The survivor was crying and shouting for help which made one Peter Aluku to call the Police. When the Police team arrived , they broke the door of the house and rescued the child."
He is a witch – suspect
When approached, the 45-year-old suspect and mother of two, admitted to have taken the victim from his father whom she said is her younger brother.
She alleged that the boy is a witch and had destroyed so many things in his father's house, adding that the act, made his father to wash off his hands from the suspect's welfare.
According to the suspect who runs a restaurant around Seme border," When I traveled to see my younger brother in the village. I discovered that he has abandoned his son and when I asked why, he told me that his son was a witch and that he was responsible for his downfall. Out of pity, I brought his son to Lagos and enrolled him in a private school.
He started destroying things in my house and even injured his classmates in school. Some of the injuries on his body were sustained in school. At a point, he was chased out of the school. I had to go and enroll him in a government school where same thing continued.
When I asked why he was destroying things, he said something used to propel him to do the wrong things. Each time the strange personality possessed him, he would run away from home and I would be looking for him.
When I took him to a white garment church, they confirmed he is a witch and asked me to bring some materials like white clothes to carryout some spiritual cleansing that would remove the witchcraft.
"Since I brought him to stay with me, I have been falling sick. Several times, I would see him in the dream staring at me and making mockery of me. When I woke up, I would see him in that same position. I have asked him why he was tormenting me and he said it was the fault of the forces inside of him.
Last Tuesday, he came back from school with all his books torn. He said he was driven away again. I beat him out of provocation", the mother of two said.
However , when the boy was confronted, he stated that he had never told his aunt that any force within propelled him to destroy things.
He said : "I did not break anything at home. She beat me because my slippers cut and she accused me of using razor blade to cut it."
Vanguard also observed that the boy had a stitch on his head. When asked how he sustained the injury, he replied, " she( pointing at his aunt) hit me with a bucket. I want to go back to my parents in the village. I don't want to stay with her again", he said in tears.
The suspect according to the CP, would be charged to the Special and Sexual Offences court as soon as as investigation was concluded.
Subscribe for latest Videos