By Vincent Ujumadu
AWKA- A NIGERIAN, Mr. Eddy Duru, who is a German parliamentarian, has mounted vigorous school to school campaign across Nigeria against illegal travelling and prostitution abroad, which had led to death of many Nigerians in the desert and in the sea.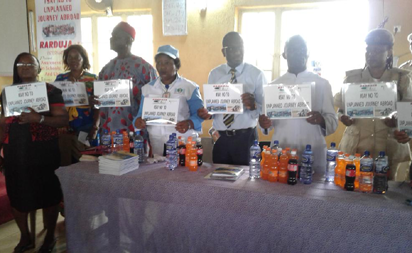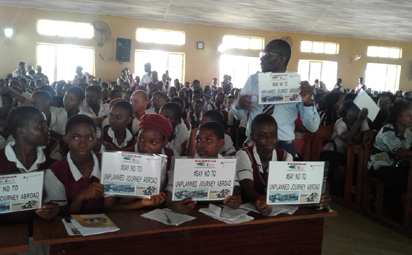 Through his organisation, 'Re-educating Africans on the Risks and Dangers of Unplanned Journey Abroad,' RARDUJA, an NGO, which is collaborating with the National Agency for the Prohibition of Trafficking in Persons, NAPTIP, Duru and his team had already visited many secondary schools across the country during which students were educated on the dangers of embarking on unplanned journey in the name of searching for greener pastures abroad.
Last week, the team was at the famous St John of God Secondary School, Awka, a girls' secondary school with very large population and at Comprehensive Secondary School, Nawfia in Njikoka Local Government Area of Anambra State and for hours, held the students and their teachers spellbound with revelations on the tortuous journey thousands of Nigerian youths had embarked upon, which resulted into agony for them and their families.
Duru explained that he decided to carry the battle to secondary schools because the message would sink properly at their present ages, coupled with the fact that with clubs to be formed by the various schools, the information would spread to a large number of youths in the country.
Using graphic illustrations, the Imo State-born Duru, who has lived in Germany for 22 years, said that in 2016 alone, 62,002 Nigerians migrated to Europe through the deserts, out of which 27,000 died on their way.
According to him, over 16,000 of those who lost their lives during the journey were graduates of tertiary institutions, who could have found something useful to do in their country and advised the students not to allow themselves to be lured into embarking on such journeys by friends of aunties.
Duru said: "Many of our sisters go abroad without knowing their destinations and only expect that men should come and carry them once they arrive in the country. Most often, it was not what the youths were told before they left the country, that they meet abroad.
"Some of the parents even sell their property to send their children to Europe without adequate preparation, not realising that by their action, they were jeopardizing the lives of their children in those countries.
"I want to warn our people, especially the youths that Libya is not an ideal route to Europe; Libya is only a slave route and many Nigerians have ended up there in torture camps.
"Nobody says you should not travel to Europe. The issue is how you want to travel to Europe because many of our brothers are languishing in jail in Europe. This is because they travelled without proper planning. There must be a reason for you to travel. The truth is that anyone who tells you that it is all enjoyment over there is deceiving you.
"If you must travel, you must plan for it properly. We don't want to see our people crying as a result of their ugly experiences in Libya.
"Anybody that tells you that you can travel abroad without international passport is a trafficker. Anybody who tells you that you can travel to Europe through the desert is a trafficker and he is only deceiving you.
"If you want to travel abroad, finish your education first. You can then plan your journey by going to the Nigerian Immigration Service and obtaining your passport and going to the embassy of the country of your choice to obtain your visa. It is unplanned journey that encourages human trafficking, prostitution and modern slavery."
Officials of the Nigeria Immigration Service, National Orientation Agency, NOA, and NAPTIP, who also addressed the students, narrated ugly experiences which many Nigerians had had to face for attempting to run away from their country.
During the interaction with students in Anambra State, some of the students were selected as Ambassadors of RARDUJA and their mandate was to be educating other students on the dangers of unplanned travels and making illegal journey through the desert and the Mediterranean Sea.
As Duru explained, so far, the NGO is carrying out the nationwide campaign without Nigerian Government's support in terms of funding. However, he explained that the German Government had agreed to support the NGO, although the support was yet to come.
He was, however, grateful to government for providing security for the group during its campaign from one state to the other and allowing officials of NAPTIP, Immigration and NOA to form part of the resource persons in every state visited.
Some of the students who spoke to Vanguard described the visit to their schools as an eye opener and hoped that government would do everything humanly possible to discourage Nigerian youths from embarking on what they called 'the journey of death.'