Ryan Giggs hailed Gareth Bale as the greatest Welsh player he has seen after the Real Madrid star inspired his club's Champions League final victory over Liverpool.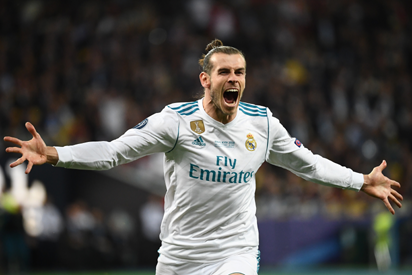 Bale came off the bench to score twice in the second half of Real's 3-1 win in Kiev on Saturday.
The Wales forward bagged his first with an overhead kick already being ranked as the greatest goal ever scored in a Champions League final.
That put Madrid 2-1 up and Bale wrapped up his club's third successive Champions League title when his powerful long-range effort was spilled into the net by Liverpool goalkeeper Loris Karius.
The 28-year-old now has four Champions League winners' medal from five seasons in Spain, equalling the British record of former Liverpool defender Phil Neal.
Wales manager Giggs had been regarded as the finest product of his country, but the former Manchester United winger says that honour arguably belongs to Bale now.
"He's the greatest Welsh player I've seen," Giggs said.
"Obviously I didn't see John Charles play and many others around that time.
"But great players turn up at the right moments and make the difference, and he's done it twice now in Champions League finals.
"And to win four, to go to Real Madrid, and be so successful, he's got to be the best."
Former Tottenham star Bale said after the final that he would have to consider his future with Real after spending much of the season on the bench.
But Giggs said: "I've always maintained he looks happy at Real Madrid.
"It's a great club and a successful one. It's Gareth's choice.
"He's made the difference in a Champions League final — whether that has any bearing, I don't know."
AFP