RIVERS State, once again, wore the crimson portrait of a political war front on May 11, 2018 when a long-drawn exchange of gunfire between political gladiators stalled proceedings at the state's Judiciary Complex in Port Harcourt.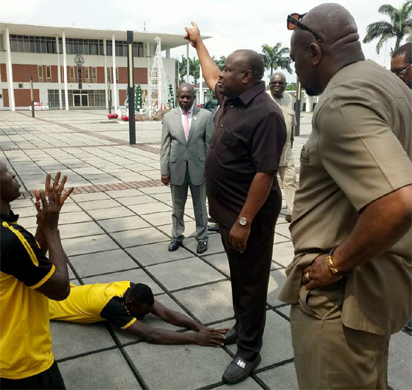 The nationwide chaos that followed the ward congresses of the All Progressives Congress, APC, reared its ugly head in the Rivers State capital when efforts by a faction of the APC to obtain a court injunction to stop the congress was countered by a rival group which descended on the complex, amidst heavy shootings. They vandalised court rooms, chased away judiciary workers and caused extensive damage, with court documents strewn all over the place.
Videos of this mayhem were all over the internet, thus giving the outside world a view into the way democracy now operates in Nigeria. This came less than a month after hoodlums effortlessly shook off the heavy presence of security personnel, invaded the plenary of the Senate and made away with the Mace. Those who carried out that infamous coup against our democracy still remain at large.
Rivers State is not a stranger to the irreverent abuse of the Judiciary. Previously, the courts were locked up with impunity for a prolonged period when attempts to foist a Chief Judge was stiffly resisted.
Never at any other time in the history of our country had politicians demonstrated such absolute disregard for our democratic institutions than the present time. Anarchy is gradually closing in. The Judiciary is where we all run for redress when our rights are trampled upon. But when people pick up firearms to invade the courts, destroy valuable records and prevent the judges from performing their constitutional duties, it is goodbye to the rule of law. The rule of the jungle takes over. When that happens only the fittest will survive.
We are worried for the upcoming general elections, especially in Rivers State. The message that unfortunate gun attack projects is that the elections of 2019 will be decided by bullets rather than ballots. If a mere intra-party affair could precipitate this level of armed violence, what will happen when the two rivals, the Peoples Democratic Party, PDP and  the All Progressives Congress, APC, go head-to-head next year is only to be imagined.
We call on all politicians to play according to the rules. The various political parties have their constitutions which guide them on procedures to follow in seeking elected office. The laws of the land also are explicit on the due processes. Unless we play by the rules no one will be safe. Our democracy is on the line. Our country is in danger.
Those behind this attack should be exposed and punished accordingly, otherwise it will happen again.