.As Baraje hails party as 'Very Responsible'
By Omeiza Ajayi
ABUJA – The national leadership of the ruling All Progressives Congress APC Monday in Abuja met briefly with some of its aggrieved members under the defunct new Peoples Democratic Party nPDP, conceding that the group's concerns were genuine and would be addressed.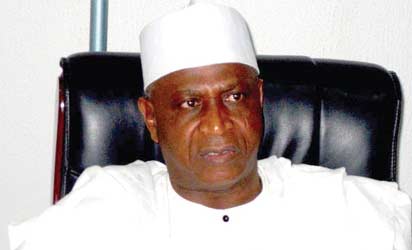 "We have not yet resolved. They wrote a letter to us, they are party men, they have grievances, we looked at the letter, their grievances are genuine. And they requested a meeting within seven days and before the seven days expired, I called them and they were not ready to come, they said we should shift the meeting till today, which we did. So, we are listening to them, we have listened to them and we are taking up their matter seriously, we will address it. We don't ignore our people except if you don't send your grievances to the party, but if you send, we will always address your grievances", said Sen. Lawali Shuaibu, APCs Deputy National Chairman, North, who stood in for the National Chairman, Chief John Odigie-Oyegun.
Asked whether he was satisfied with responses his group got from the closed door meeting, the leader of the nPDP bloc, Abubakar Kawu Baraje said: "So far so good, we have just started and when you start a race, you don't say whether somebody wants to see you until you are getting to the middle or to the end. But it is a good start, it is a good beginning".
Speaking further, Baraje who was accompanied on the visit by a serving member of the House of Representatives from Kano state, Aliyu Madaki said; "As you are aware that we requested that we wanted to see the party, and the party, very sensitive party, very responsible party, responded to our requests adequately and we think it is a very encouraging time.
"Since last week, they have gotten across to us but because of one logistics or the other, we couldn't come until today. We begged the party to shift the day till today and today we have seen our party. We are party members, this office is our office, we have only come home to discuss those observations we copied you people when we wrote in our letter. The meeting was very beautiful."
When asked to respond to the allegations raised by Sen. Abdullahi Adamu's group, Baraje said he was not ready to respond to such issue because a member of his group had responded.
"I am not ready to do that because somebody had earlier responded to them adequately. I think the former Youth Leader of the defunct nPDP, Timi Frank, responded to them and once somebody has responded, there is no need beating around the bush.
"In any case, in any group, particularly political groups, you are bound to have a splinter; while they split is best known to them. As far as we are concerned, the group that sent me here, or sent us here are 95.9% intact."
Subscribe for latest Videos