By Emma Nnadozie, Crime Editor and  Chioma Obinna
*As Police reads riot act to hospitals
*Vows to prosecute offenders
*Act is deficient – NMA
It came like a thunderbolt. The Commissioner of Police in Lagos, Imohimi Edgal took the bull by the horns and made startling pronouncements over the vexatious issue of refusal of hospitals to treat gunshot victims before requesting for police report.  He reminded offenders that there exists 'Compulsory Treatment and Care of Victims of Gunshot Act, 2017 and the resultant penalty of 5 years jail for offenders.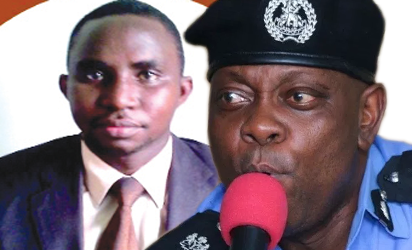 The admonition came after the sad story of an Ogun State based Engineer, Adebayo Akinwunmi, 41, who was shot by dare-devil armed robbers in his house at Ofada-Mokoloki and he died with the family alleging that he was rushed to Reddington Hospital  in a pool of his blood but doctors refused to attend to him insisting on a police report.
Police statement
Piqued by the ugly development, Lagos State Police boss, Imohimi Edgal came out with a strongly worded statement threatening to deal decisively with hospitals that refuse to treat such victims reminding them of the stipulations of the 2017 Act.  He went further to direct Area Commanders and Divisional Police Officers in the state to arrest and prosecute offenders describing the alleged action of Redington hospital as "cruel, unlawful and inexcusable."
"In the light of this development, the command wishes to inform all medical practitioners in Lagos State that the Act demands that every hospital in Nigeria whether public or private shall accept or receive for immediate and adequate treatment with or without police clearance, any person with gunshot wounds.  The Act, however, requires the hospital treating such a patient to report the fact to the nearest police station within two hours of commencement of treatment," he said.
Remarkably, this law has existed in the country since 2017 mainly in the breach.  Many hospitals have developed a template through which they trample on and above the law with irritable arrogance and grave consequences.
The recent case of Adebayo Akinwunmi, a senior Engineer who won an award last year as the best staff in a popular telecommunication company where he worked may serve as the litmus test for both police authorities and medical practitioners in Nigeria.  Many other such heartrending stories have taken place in different parts of the country in the past and little or nothing was done to call medical practitioners to order.
Past incidents
Take the case of a wealthy Yoruba businessman living in highbrow Adeniyi Jones in Ikeja, few years back for instance.  He came back to his palatial home at Siyanbola Street in the wee hours of the night after an outing only to be accosted by four armed men inside his well-fortified bedroom.  They shot him several times and fled the scene. He was rushed to one of the best hospitals in Ikeja only for doctors to insist on a police report and N150, 000 deposit before treating him.
His very rich neighbours who rushed to the hospital quickly deposited the money requested and expressed readiness to bring out more but the doctors vehemently stood their grounds that police report must be produced.  Pleas by both the victim's wife on whose laps the victim reclined while bleeding excessively and anxious neighbours fell on deaf ears.  One of the rich neighbours even made instant promise of a million naira provided they commenced treatment but they refused.  The victim died few minutes later after both his driver and others succeeded in rushing to Area F, Ikeja to obtain police report.
Survival of the fittest
The case of another victim, Okey Okafor popularly called Okey Abagana, a business man, is another traumatizing experience but he was lucky to live and tell his sad experiences. That was after his brother; a senior police officer invaded the hospital and threatened to kill the doctors if he was allowed to die without treatment.  The victim was shot by traffic robbers at Agric bus top along Mile 2- Badagry expressway, last year.  When they accosted him in a gridlock, they ordered that he should wind down his glass.  Before he could obey their order, one of them shouted that he was wasting their time and released volleys of bullets into his upper shoulder.  His colleagues rushed him to the nearest hospital (name withheld) at Volks bus stop, a stone throw to the scene, only for doctors to reject him on the grounds that he must produce police report.  His pleas and that of other sympathizers fell on deaf ears.  At this stage, he frantically made a call to his brother, a senior police officer, who raced to the hospital and also appealed to the doctors without success.  When he could not withstand seeing his brother bleeding to death while they were waiting for his orderly to rush and procure a police report, he pulled out his gun and threatened to kill all the doctors on duty if his brother dies.  That turned out to be the clincher as the frightened doctors quickly started treatment while awaiting police report which eventually came few hours later.  Luckily, the victim survived to tell his story but not without sad memories of the pains he went through.
Doctors react
Incidentally, many medical practitioners also seem to be unaware that the same 2017 Act is applicable to those of them that refuse to treat victims for non- deposit of money.  However, some of the practitioners who spoke with Vanguard stated that they are aware of such law but laid the blame on the police. Most of them who spoke on the condition of anonymity lamented that they were made to suffer untold hardship because of their discretion over such matter.  "Initially, I used to use my discretion in treating such issues but I stopped after police dragged me to their office and extorted huge amount of money from me for treating a robbery suspect whose life I wanted to save.
"I reported to the police after the victim's cousin who is well known to me pleaded that I should save him from his wounds.  I made sure I sent a nurse to the police but when it blew open that the victim was a robbery suspect, all of us were dragged to the police station and made to suffer untold hardship. I only hope that the police will be honest in their present pronouncement over such victims.  My happiness is that I can vouch for the integrity of the present Police Commissioner in Lagos because I have been following his activities and, I think, I can rely on him. I will also plead with my colleagues to obey this Act to the letter in order to save lives because a lot of lives have been lost in the past because of that," one of them said.
NMA reacts
However, the umbrella body of medical practitioners, Nigeria Medical Association, NMA ,seems to be toeing a different line to the police efforts to prevent avoidable deaths  being recorded in hospitals as a result of refusal by practitioners to treat victims unless they produce police report.  The newly elected National Secretary of NMA, Dr Olumuyiwa Odusote declared that the law was deficient and was not fair to the health facilities as in who pays.
In a telephone chat with Vanguard,   Odusote who stated that the NMA had in the past voiced its reservations on the Gunshot Wounds 2017 Act said: "NMA believes that even though the law seeks to protect patients with gunshot injury, it is deficient.  This is because sometimes, to intervene and save the lives of patients with gunshot wounds, it takes far more than four hours to achieve but that law restricts the period within which you are to report to the police to two hours.
"If for example, the patient was shot on the chest and you have to take him to the theatre immediately in order to stabilise him and stop him from bleeding, that procedure takes more than two hours to carry out.  It means that I am liable.  By the time I come out  to say  I want to make a report to the police, they can arrest me for concealing a gunshot wound patient.
"If a law penalises my intention to save a life, what should I do naturally?  To avoid anything that will put me in that circumstance,  the easiest way is to  refer such patients to centres where they have enough ,  while the doctors  are working, some administrative officers somewhere are contacting the police. But most of the private hospitals we have in the country, are usually run by the doctor himself who also administers treatment.  By the time he tries to save that life, he will not have time to make that report.
"Again, the police we have in the country will take advantage of that and God help that doctor if he doesn't have money to give, he is going to be thrown behind bars for doing his legitimate duties. It is difficult for me to say that any doctor who does not take such a patient should be blamed."
Who pays  victim's bill?
Continuing, he also said the law failed to specify who pays  the hospital bills when a gunshot patient is treated.   "The second problem is that the law does not make provision as for who pays?    The law says you must treat, yes, even if you treat who pays?  One of the major problems we have in this country is that we don't have a good  healthcare financing  system. Most patients pay out of pocket.  And most of these patients cannot afford out of pocket payment for healthcare.  If you say you want to force a facility to treat patients and by the time he finishes and the patient cannot pay, who pays?  It will take a few months for such facility to shutdown naturally, and then deny care for thousands of others," he explained.
Odusote also argued that a doctor can only accept a condition that he or she is competent and equipped to manage.  "If you say I must treat a gunshot wound and I don't have the facilities to do so, the moment I take that patient and he or she dies, I become liable.  The law allows us to refer a patient that we cannot manage. Once I know I cannot manage a patient, it is better for me to refer than to keep a patient for hours and now say sorry we cannot do anything for you and go to another place.  It is better to let the patient know abinitio that I cannot manage your condition and refer to a better centre.
Subscribe for latest Videos