FOR Imo people, the 2019 governorship election is a very big and serious issue. Clearly, the state has been divided into two major camps: those who want the Governor Rochas Okorocha political dynasty to continue, and those clamouring for tested people who have managed human resources and have achieve successes that could be verified to run the affairs of the state.
Other minor camps include those who don't want the All Progressives Congress, APC, to continue as well as those in favour of the ruling party continuing but with a candidate who will not be Governor Okorocha's surrogate.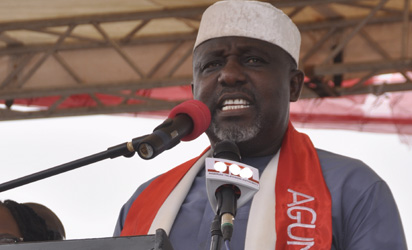 Currently, a host of governorship aspirants are on the prowl. They include Mr. Chris Nwosu (APC); Son in-law to the  Governor of Imo State  Rochas Okorocha who is contending with several aspirants in his party who have decried and declaimed the governor's unrestrained nepotistic endorsement. Some former People's Democratic Party, PDP,  elected officials who are hoping to return to power in the state, as well as  Mr. Stanley Amuchie, a Governance expert and seasoned Bank Manager, among others.
Governor Okorocha has thrown his weight behind Mr. Chris Nwosu, his son-in-law. Mr. Nwosu, who is from Umuokwe, Eziama-Obaire in Nkwerre Local Government Area in Orlu zone is married to Okorocha's first daughter, Uloma. Okorocha's endorsement and insistence on Mr. Nwosu succeeding him is raising a huge dust in the state christened Eastern Heartland.
While stating his preference for Mr. Nwosu, the governor, who is stiffly opposed to  a former Senator  who is now in his party succeeding him, also advised the extant Deputy Governor to leave the governorship race and go for Imo East Senatorial seat.
But the Deputy Governor, who is from Owerri zone, which has not produced a governor since the return to democracy in 1999, rejected the offer, in a statement by his Chief Press Secretary, an indication of deepening strife in the party as a result of dissent to the Governor's alleged bias.
Insisting on contesting for the office of the governor in 2019, the contending deputy said it is not just about his ambition but about the entire Owerri zone which, he said, has been sidelined and marginalised. Indeed there are growing calls for a complete shift in paradigm urging Imolites to completely step away from these  political belligerents in the ruling party with several endorsements urging Mr. Stanley Amuchie to step up and act as a new and attractive third force
Those who make a case for zonal marginalisation contend that since 1999, Orlu and Okigwe zones have monopolised the governorship seat with Orlu zone being the most favoured. By the  time Okorocha concludes his second term next year, Orlu zone would have had 16 years as Chief Achike Udenwa also did eight years. Okigwe zone had four years under Chief Ikedi Ohakim, who handed over to Okorocha.
Okorocha's perceived appointment of family members and relations into key positions is one of the major reasons his opponents want fresh air at the Government House to stop Imo from being handed over to the Okorocha clan because even as governor,  his wife Nkechi,is over-seeing a number of ministries.
In December 2016, the governor's wife, Nkechi Okorocha, was in-charge of four ministries in the state. Okorocha made the revelation when the correspondent chapel of the Nigeria Union of Journalists, NUJ, Imo State, recognised Nkechi with the "Most Outstanding Governor's Wife Award" in Owerri.
The Secretary to the state government, George Etche, who represented the governor at the event, while listing the achievements of Okorocha's wife in six years, named the ministries under her control to include: Women Affairs, Works, Health, as well as the office of the Secretary to the State Government."
Also, Okorocha's younger sister, Mrs. Ogechi Ololo, is the commissioner for Happiness and Purpose Fulfilment as well as deputy chief of staff, domestic affairs. And Mr. Nwosu, his son-in-law, is currently his Chief of Staff.
Recently, Okorocha declared his interest to contest the Orlu senatorial seat in 2019 because, according to him, it would be a disservice to the nation if he failed to contest considering his "wealth of experience" as a governor for eight years. "I have decided to run for the Imo West Senatorial zone because if I don't, bad people will take the position," he said as the only good man who should occupy the position.
Okorocha also decided that one of his loyalists, who serves as the commissioner for information, Mr. Nnamdi Obiaraeri, will represent Okigwe senatorial zone after he publicly declared that the incumbent, Ben Uwajimogu, former Imo State House of Assembly Speaker, will not be given the APC ticket to re-contest.
However, a host of APC stalwarts have urged the governor to rethink his endorsement of Mr. Nwosu so as not hurt the chances of the APC at the polls.
Former Commissioner for Information and Strategy, Dr. Theodore Ekechi, who served under Okorocha described the governor's endorsement of his son-in-law as his successor as "anachronistic, unhealthy, unacceptable and a serious threat to the development and growth of APC, in Imo State."
Speaking to reporters  in Owerri, he reminded his former boss that "the endorsement of his son-in-law will definitely reduce  the chance of the APC in the forthcoming general elections. There are more intellectually endowed and vibrant personalities in the state, who are more qualified to be endorsed than his son-in-law."
Ekechi, however, called for the restoration of the zoning formula in the state for equity, justice, fair play, and development, stressing that Orlu Zone has ruled the state now, for 16 years.
However, justifying his endorsement of Nwosu, the governor said that Nwosu has the qualities to be the next governor and would perform better than him.
Will APC leaders allow Okorocha's choice to stand? If the governor's choice stands, will Imo electorate concur at the polls or turn to Third Force options such as Sir Stanley Amuchie? These are questions that will be answered with time.
Mr. Emeka Chukuma, a public affairs analyst, wrote from Owerri, Imo State.
Subscribe for latest Videos