ENUGU—NIGERIAN workers and pensioners have urged both federal and state governments, as well as private employers to facilitate the payment of a new minimum wage of N66,500 to reduce the suffering of workers in the country.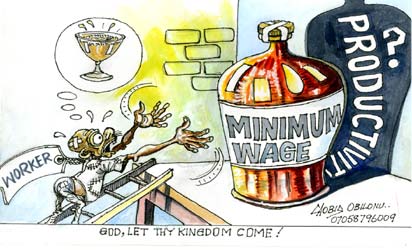 The stakeholders made the demand during a public hearing organised by the Tripartite Committee on National Minimum Wage for the South-East held in Enugu on Thursday.
Comrade Virginus Nwobodo, who spoke on behalf of Nigeria Labour Congress, NLC, South-East, said that the new minimum wage review and implementation had been overdue.
Nwobodo, who is also the NLC chairman in Enugu, said that the NLC wanted a minimum wage not less than N66,500 noting  that "it is currently difficult for anybody to manage N18,000; whereas most workers at this level have families and dependents to take care of.
"It is long overdue and we are asking for nothing less than N66,500 to meet the current realities of  socio-economic as well as cushion the present hardship in the land," he said.
Comrade Chukwuma Igbokwe, who spoke on behalf of the Trade Union Congres, TUC, South-East, called on the Federal Government to do a public hearing on political office holders' wages, so that it would be reviewed.
In his presentation Anambra State Governor, Willie Obiano, said the state would remain labour friendly and implement any fair agreement reached and concluded by the tripartite committee.
Obiano represented by his Senior Special Adviser on Labour Matters, Chief Godwin Igbokwe, noted that "before now, the government had earlier assured the state workers of increment in their salaries."