By Ola Ajayi
COCOA House, the 105-metre imposing skyscraper at the centre of Ibadan city is one of the legacies left behind by the founding fathers of Yorubaland like the Premier of the defunct Western Region, the late Chief Obafemi Awolowo.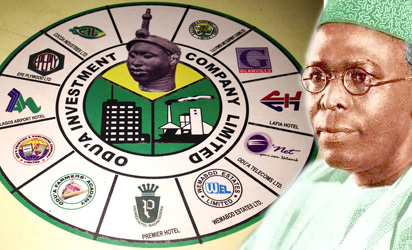 Since it was established 53 years ago, the masterpiece is still there standing tall.
It is one of the assets of the Odu'a Investment Company which was founded by three former Military Governors of the then Western Region, Major-General David Medaiyese Jemibewon (Old Oyo), Group Captain Ita David Ikpeme (Old Ondo) and Major-General Saidu Ayodele Balogun (Ogun).
Cocoa House was built with proceeds from commodities like cocoa, rubber and timber by the then Western Region of Nigeria. For this reason, they usually call the building, Ile Awon Agbe meaning (House of farmers).
Though the fire that gutted the 24-storey building on January 9, 1985 caused a setback to its development, it was rehabilitated in 1992.
It is believed that the building, which houses so many companies as its tenants, is still being under-utilised.
Ex-military govs decry rot
During a meeting which held at the Premier Hotel, Ibadan, the retired military men warned governors of the six owner states that posterity would not forgive them if they allowed partisan politics to destroy the legacy.
According to the ex-governors who spoke separately, the governors should please put aside  partisan politics and make the interest of Yoruba race their priority.
"History will not forgive you if you ruin this legacy. Keep your partisan politics aside when you are discussing national issues. The interest of Yorubaland is beyond the interest of individuals. Keep this race going," the military governor of the Old Ogun State said.
The three military governors of the then Western Region were honoured with distinguished awards for setting up the conglomerate in 1976.
At the epoch-making event, the governor of one of the six owner states, Governor Abiola Ajimobi, flanked by his counterparts from Ogun, Ondo, Ekiti, Osun and Lagos states, advised the conglomerate to diversify into agriculture so that its impact would be felt more in the zone.
The governor, who commended the leadership instincts of the Group Managing Director, GMD, Mr Adewale Raji, said: "What we are celebrating today is survival and not improvement. There are fundamental problems plaguing the development and one of them is that our value system has collapsed. Just as it needs be rejuvenated, we should also rejuvenate Odu'a Limited.
"The current management has improved on the achievements of the previous management. We, however, need to re-think towards our development. My advice is that instead of dwelling much on property development, you can veer into agriculture. It is people who have money that can buy houses. We have enough land where you can invest in cassava planting and the rest. Invest in this. This Premier Hotel can also improve if the management engages qualified investors who can run it better and you will make money," the governor noted.
The governors of the owner states were ably represented at the event. Governor Akinwumi Ambode was represented by the Secretary to the Lagos State Government, Mr Tunj Bello, while Senator Ibikunle Amosun was represented by Mr. Taiwo Adeoluwa. Governor Ayodele Fayose was represented by Raji Ajiboye, Governor Rauf Aregbesola sent  Alhaji Moshood Adeoti while Dr. Olusegun Mimiko delegated Mr Agbotoba.
Revamping O'dua Group
While speaking on the theme of the anniversary, entitled: Re-invigorating Odu'a Group into a global conglomerate, former Vice- Chancellor of the Obafemi Awolowo University, Professor Wale Omole said: "Those, who conceived the vision to build the remarkable projects of Odu'a like the Premier Hotel, should be remembered. We need human capabilities to give a life line to the conglomerate. Many people no longer want to sweat, but rather just go after money. This should be reversed. Integrity used to be the hallmark in Yorubaland. But, unfortunately, we no longer have passion for integrity. We need to inspire our youths because if the military leaders did not put these projects in place, we would not have had anything Iike this to inherit."
Chairman of the occasion, Dr Christopher Kolade said: "The passion of the three military administrators drove them into establishing Odu'a Investment. Standard and values are susceptible to the gravity. With passion, nothing is impossible."
Cocoa House can boast of 80 per cent occupancy with no fewer than 80 corporate tenants.
Taking a cursory look at the emergence of Cocoa House, the Group Managing Director of Odu'a Conglomerate, Mr. Adewale Raji said Cocoa House was originally meant to be an inspiration for higher attainments in the Yoruba nation, but it is a matter of concern that succeeding generations have not visibly lived up to the goal.
"I believe we need to enhance the value so it can be the first choice in Ibadan for office accommodation, business, leisure and entertainment. This, we are committed to engender along with the collaboration of the owner state governments, particularly Oyo State Government, to lift up the Central Business District for business and entertainment. Odu'a Group is poised for a better future to transform over the next five years to a successful business conglomerate that every Yoruba person will be proud of based on its mantra of growth, profitability and sustainability."
HISTORY OF ODU'A GROUP
Odu'a Investment Company Limited was incorporated in July, 1976 to take over the business interest of the former Western State of Nigeria, now Oyo, Ogun, Ondo, Osun and Ekiti states of the Federal Republic of Nigeria.
The company commenced business on the 1st of October, 1976.
Since inception, the group has been operating as a conglomerate with over 70 per cent of her business as investment/joint ventures with reputable multinationals.
Investments within the Group at its inception, covered a wide spectrum of economic activities, viz; integrated textile mills, breweries, commercial banking, insurance business, real estates, livestock rearing, fisheries services, carbonated drinks, food and beverages industries, manufacturing in chemical and mechanical industries, hotel and catering, vehicle distribution, bottling and marketing of liquefied petroleum gases, printing and publication.
Apart from investments in limited liability companies, Odu'a Investment Company Limited also owns substantial properties in choice locations in the Ikeja residential/Industrial Estates and Apapa in Lagos State as well as a number of residential and commercial properties in Ibadan including the Aje House.
It also has investments in properties in various parts of the country.
SUBSIDIARIES OF ODU'A GROUP
FOOD AND BEVERAGES – Cocoa Industries Limited
HOTEL & CATERING – Lagos Airport Hotel; Premier Hotel; Lafia Hotel
REAL ESTATE – Wemabod Estates Limited
TELECOMMUNICATIONS – Odu'a Telecoms Limited (O'NET)
ENGINEERING SERVICES – E&O Power and Equipment Leasing Limited
PRINTING & PUBLISHING – Odu'a Printing & Publishing Company Limited
FINANCIAL SERVICES – Glanvill Enthoven & Co. (Nig) Limited
MANUFACTURING – Epe Plywood Industries Limited
LEISURE SERVICES – Odu'a City Hall (located within Lafia Hotel)
FARMERS' ACADEMY – ODU'A Commercial Farmers' Academy
OTHERS – Ire Clay Products Limited.