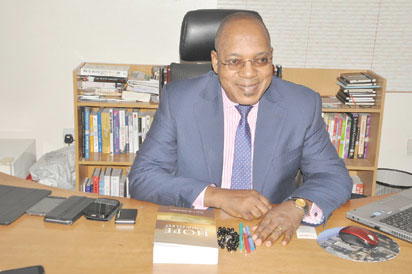 Sam Afemikhe
The people of  Ukhomuyio Community in Okpella Clan, Etsako East Local Government Area of Edo State are to institute an annual award programme to honour  good behaviour and commendable service.
Mr.Sam S.O Afemikhe, the new National President of the community, who made this known in his acceptance speech immediately after the election and inauguration of a new executive committee for the community on Easter Sunday in Okpella, told the mammoth crowd of all sons and daughters of the community from far and near and the village heads and chiefs gathered at the Erame Primary School, Ukhomuyio, Okpella, for the election and enthronement of the new leaders that good behaviour and commendable service to the community will be rewarded through an annual award programme.
"It has become common for a few people to resort to criminality and violence to resolve issues. While we plead for dialogue and fraternal resolution of issues rather than resorting to criminality, we will ensure that criminals are punished as set out by the law of the land.
"Good behaviour and commendable service to the community will also be rewarded through an Annual Award Programme," the Lagos-based renowned accountant said.
Afemikhe hinted that to bring back sustainable peace, unity and progress in the community, the existing structures would be reviewed and revamped and at the same time tipped them off on the expectations of his administration: "It is my firm belief that Ukhomunyio will move forward with efficient and effective systems based on focus, accountability, transparency, fairness, equity, probity, justice and progress for all its sons and daughters. We will work without any iota of discrimination".
The community under his watch, he added, shall carry out an audit of its mineral resources, harness them efficiently and effectively and create a revenue sharing formula that would adequately reward the village heads, titled chiefs, youths and ensure the development of the community in terms of school repairs, engagement of quality teachers to support teaching and learning in the schools, support for students, provision of basic healthcare facilities and bore holes, among others.
He charged the people to see him as National President to all Ukhomunyio sons and daughters and not to a section or select few, appealing that they whole heartedly work with his executive not only      to put Ukhomuyio on the map for positive things and not criminality but to make it    a pace setter    in Edo State and the country as a whole.
Other members of the Ukhomwunyio Executive Committee are Hon. Charles A. Ikhumesomi, 1st  National Vice President, Hon. Luke Obalo, 2nd  National Vice President, Pastor Eshioramhe M.O. Eshioguemhe, National Secretary, Comrade Jimoh I. Goodluck, 1st  Assistant National Secretary, and Mr. Rato F.I. Inabefo, 2nd  Assistant National Secretary. Others are Engr. Mathew Okun, Financial Secretary, Mr. Victor.I, Balogun, Treasurer, and Emmanuel Kolawole Okhakhu, Public Relations Officer.