*As ethnic leaders raise alarm over impending attack on Makurdi
By Peter Duru, Makurdi
The Nigerian Army has captured three armed militant herdsmen in Benue state after an exchange of gunfire at Tormatar village in Guma local government area of the state.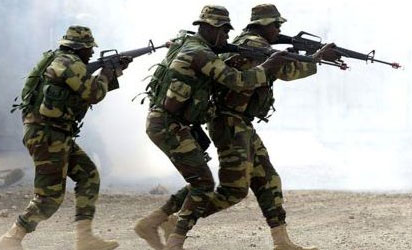 In a statement signed by the Assistant Director, Army Public Relations 707 Special Forces Brigade Makurdi, Major Olabisi Ayeni, troops of the brigade nabbed the armed marauders while they were converging in a camp to launch further attacks on the state.
The statement read in part, "troops of the 707 Special Forces Brigade conducted a fighting patrol to a suspected militia herdsmen camp located close to Tormatar village in Guma local government area of Benue state on Thursday.
"The armed men were preparing for another possible attack on the innocent citizens in the local government area. On getting to the militia camp, the herdsmen fired at our troops but the troops immediately returned fire and dislodged them.
"The troops arrested three of the militia herdsmen including Abubakar Umaru, Adamu Likita and Yusufa Alhaja with one of them wounded during the gun battle. Weapons recovered included two AK 47 riffles with 6 rounds of 7.62MM Special Ammunition. Similarly, one AK47 riffle and five rounds of 7.62mm Special Ammunition were found in the bush by troops of the Brigade while conducting search in the general area of Naka village in Gwer West local government area of the state."
Meanwhile, the leadership of the ethnic groups in the state under the aegis of Mdzough U Tiv, Idoma National Forum and the Omi Ny' Igede has raised alarm over an alleged planned attack on Makurdi, the state capital by suspected militant herdsmen.
Speaking Friday, through its Chairman, Chief Edward Ujege the ethnic leaders also disclosed that intelligence report had it that over 360 military assault rifles had allegedly been acquired by Miyetti Allah Kautal Hore and distributed to their collaborators in the state preparatory to the execution of the planned attack.
According to the tribal leaders, "it has been alleged that heavily armed militant herdsmen are being mobilized for the execution of this diabolic attack on the seat of Government of Benue State.
"Though, we have not been able to verify this allegation, we are constrained to state that there is some element of truth in this given that in time past, such similar allegations have been dismissed to the detriment of our villagers."
They recalled that a similar threat had been issued by the leadership of Miyetti Allah Kautal Hore who vowed to resist the anti open grazing law of the state and after alerting the Federal government of the development no action was taken to stop the group.
"The result of the inaction on the side of the Federal Government was that on January 1st., 2018 armed Fulani militia launched a deadly attack on communities in Guma and Logo Local Government Areas of the State leaving no fewer than 73 persons dead including members of the Livestock Guards of the State.