There are five key sectors that make up the economy.
One is the central government that has the power to print money and tax citizens. Two is the external sector, which covers transactions between a country (Nigeria) and the rest of the world. It covers trade, capital flows and exchange rate policy.
Three is the financial sector, largely the banking sector, whose principal role is to take deposits and lend these to businesses to grow output and to households so that they can become home owners.
Fourth are businesses, which invest in new machinery and inventories and employ people to grow their output and make profits. And fifth are households, who buy the goods and services produced by businesses and decide how much to spend on these goods and services and how much to save.
The finances of the central government are, of course, managed by the Federal Government. The central bank regulates the banking sector and usually determines the exchange rate policy.
The Federal Government and the central bank manage trade and investment policies. The first three sectors should help businesses and households to thrive. When they do this well the output of the nation grows.
Key prices
There are also three key prices in every economy namely inflation rate, interest rate and the exchange rate.
In my opinion, the rate of inflation is the most important amongst the three because it drives both interest rates and exchange rates. The annual rate of inflation is the rate at which the local currency loses purchasing power every year. Margaret Thatcher called inflation "the unseen robber of those who have saved." Knowledgeable investors always take expected inflation into account when making investments – they always want their return on investment to beat expected inflation otherwise they will lose purchasing power.
The long-term rate of inflation is linked irreversibly to exchange rates. For example, between the year 2000 and 2015, the average annual inflation of the Swiss Francs (SWF) was 0.1% while that of the USD was 1.8%.
In fact, in each of those years except one, US inflation was higher than the Swiss inflation. This means that, during this period, the USD lost purchasing power faster than the SWF. The USD was thus the weaker of the two currencies.
What happened to exchange rates? At the end of 2000, you needed 62 US cents to buy one Swiss Franc (SWF) but by the end of 2015 you needed US1.00.
The same principle applies to the Nigerian Naira vis-à-vis the USD. During the same period, average annual inflation in Nigeria was 11.2% while US inflation was 1.8% and the Nigerian Naira of course depreciated against the USD.
A key takeaway is that anyone who promises stable exchange rates without explaining how he/she will deal with the difference in inflation cannot deliver on this promise in the long term.
Nigeria is an oil exporting nation; therefore, we shall add a fourth key price to these three – the price of crude oil.
Muda Yusuf, Director-General, Lagos Chamber of Commerce and Industries, LCCI
We are an oil critical country. Without oil, there is still not much we can do.
However, we need to worry about the non-oil sector of the economy. The population may be very huge, but we need to worry more about investment in human capital, because if you look at the biggest economies of the world today, most of them have big population.
Look at the United States of America, China, Brazil, and in Africa, Ethiopia and all of that. We need to worry about the quality of the population, which has to do with investment in human capital. That, we need to underscore.
On taxation, I do not agree with the speaker that we are not paying taxes. We need to redefine it to know who is paying and who is not paying. We need to look at it from the context of the structure of the economy. This economy is a dual economy. When I say dual, it is principally the formal sector of the economy and informal sector of the economy.
The formal sector of the economy is over taxed. When you talk of taxation, it is not just about the conventional tax, company tax, etc. Businesses pay a lot of levies and fees annually. These things put a lot of burden on businesses.
We have a situation where we have almost 50 percent of the informal sector who are not captured in the taxation policy or in the tax length. We have a few informal sector percentage providing tax revenue to support the economy. The issue therefore is about broadening the tax length and making sure that we get the other segment of the economy to also be on board.
Then we also need to worry about our institutions. Institutions are very critical for the quality of policies that are formulated. They are very critical for the quality of policies that are being implemented. When these things are interfaced with the public sector, it can be enlightening.
Opeyemi Agbaje, CEO, RTC Advisory Services
Speaking on the population control as earlier cited, I believe population control will not happen because we are in Nigeria, and also because it is built as an instrument of political control, and an instrument of large illiterate, unemployed idle army, that can be used to terrorize Nigerians.
Basically, there are three principal structures needed to move the country's economy forward. The number one imperative is hinged  on political and constitutional reforms. Without these reforms, we would continue to spend 70 percent of our resources on recurrent expenditure; have dysfunctional state governments who have responsibilities but no powers as well as the Federal Government wasting a large part of its resources on secondary schools and universities' development.
The second imperative is on social policy to improve education, skills, healthcare and to generate employment for Nigerians, in fact to turn our population into an asset rather than the liability that it threatens to be.
Right now, it is structured in a way that you become the governor or legislator and then collects the revenue and resources of the state. That system will not provide the needed development for the country.
The final imperative and I think that has been the core of our discourse today, is economic policy to restore private capital as the basis of our economic development to promote economic competitiveness especially for exports, so we can change the structure of our external sector to increase government revenue.
If we don't change the structure of our taxation system in Nigeria, and turn this country into a country whose revenues are generated through the strides of its citizens, we are not going to get things right."
Tony Okpanachi, Managing Director, Development Bank of Nigeria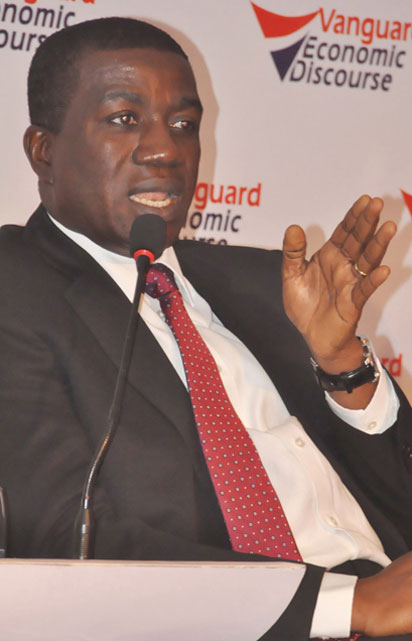 I think the prescription to population control is just being simplistic because we are already in there. No matter the way you look at it the population is still going to grow.
We are already in it, what are we going to do or where do we go from here? That is the perspective I am going to look at it. So if you look at the demography and the composition of the population, you will discover that most of them are youths.
So, if you want to talk about increase in government revenues, increasing taxes to be able to fund some of the projects, you also have to make them productive in such a way that they are able to contribute in their own way, to be able to pay their taxes.
That is why I think we should be able to look at which areas of the economy will be able to create employment more and where the Micro and Small scale enterprises come to bear.
If you look at it, almost over 60 percent of the employment was created by that sector. So an institution like the Development Bank of Nigeria, DBN, which is set up to focus strictly on that segment of the economy is a decision in the right director.
Mrs Patience Oniha, Director General, Debt Management Office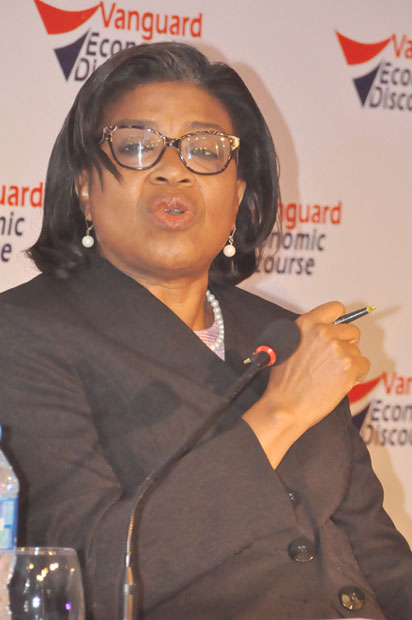 Since December last year, in terms of releasing capital into the economy, we had redeemed about N400 billion of government securities and those monies are in the system. What should bother us is, with more money available in the system, with interest rates on government securities down from 18 percent to 14 percent at most, what is constraining lending to the private sector?
Is it that the banks are not willing to take the risk? We have released money and the interest rates have come down, then what is it that is constraining the flow of capital at lower rates? Rates have dropped and to the real sector that is where production will come from and I can assure you that is one of our objectives.
On government securities being tax free, we actually pushed for bonds issued by corporates to be tax exempt and they are actually tax exempt. So the issue is, why is all of that money, despite the benefits of government reducing its borrowing in the domestic market, not getting to the real sector to create jobs and stimulate growth?
Bode Agusto talked about the role of inflation in economic growth with the point that in some countries low inflation led to growth with reference to Singapore. I think that with the economic theory and the examples we have seen, sometimes you need inflation to fuel growth and that has worked in some countries like China and some other countries. So, sometimes inflation can be a good thing.
In terms of bringing interest rates very low, considering the short term, to attract investors you need to have a rate that compensates for inflation. I think that is a bit of a journey. I say that broadly in terms of some of the macro issues.
Issa Aremu, General Secretary, NUTGTWN
I am excited with the presentation of Olabode   Agusto on a number of issues,   and I am happy he demystified the notion that Nigeria is not an oil rich country, that is very important.
However, I was checking some figures here. Saudi Arabia has 32million people, also an oil rich country with external reserve of $450billion.   Libya   with a population of 6.2million, has an external reserve of $70billion.
We know oil rich countries like Kuwait, Oman,UAE. Check their numbers on their reserve, they are in the three digits. So we cannot be compared to them, but the problem with Agusto's presentation is that when Agusto keeps referring to we, that we also includes us .
Muda Yusuf said much that we are not paying tax. I said you should speak for yourself.
Nigerian workers pay taxes at source, it is automatic, we pay as you earn, PAYE. We have first class, second class  and there are low class and secondly when you say we are all not rich the numbers   do not add up.
For those who can pay $2million for three bedroom apartments in Banana Island and they can also pay in Euro about £80,000 for maintenance, for them Nigeria is oil rich, this is also factual, there is nothing personal.
In 2010 when   General   Theophilus Danjuma disclosed and I want to quote him here: "That I retired from service at age 41, because I got to the top early. I started shipping business and became reasonably rich. Twelve (12) years ago I was allocated an oil block by the late Head of state, General Sanni Abacha, near   Sao Tome and Nigeria.
We discovered a lot of oil and because of the prevailing oil price, we made over $1billion. I paid my taxes and ended up with $500million. I have the problem of what to do with this Money."   Now, to the general, Nigeria is oil rich , oil block was allocated to him, so you need to be clear about that.