By Kingsley Omonobi
Abuja—THE Inspector General of Police, IGP, Ibrahim Idris, yesterday ordered a 21-day extension of the ultimatum given to Nigerians across the country to return illegal and prohibited weapons in their possession.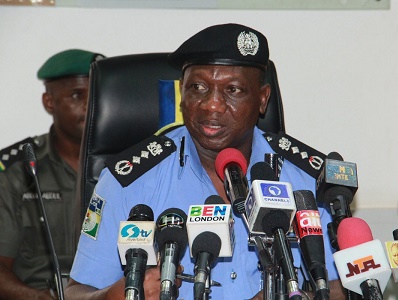 The new date is now now between April 9, 2018 (yesterday) and April 30, 2018.
The announcement of the new date coincided with the parade of 425 prohibited lethal weapons seized by the Force Headquarters Task Force for the seizure of such illegal weapons from individuals and groups.
A statement from Force Headquarters disclosed that the new date was granted following requests by the general public for an extension particularly in some states of the federation.
It will be recalled that IGP Idris on 21st  February, 2018 directed Commissioners of Police of all the state commands of the federation and the Federal Capital Territory (FCT), Abuja and the Supervising Assistant Inspectors General of Police of the 12 zonal commands in the country to immediately commence simultaneously, the disarmament and recovery of prohibited firearms, ammunition and weapons in the possession of individuals and groups across the country.
They include all suspected militias, bandits, armed herdsmen and farmers, vigilante groups, neighborhood watch and other groups or individual(s) or bodies bearing prohibited firearms and ammunition, illegal weapons and lethal devices whether locally fabricated, modified or otherwise fashioned to kill or that can cause harm or injury to persons or that can cause panic, fear, apprehension, security breach, breach of peace or that can cause threat to law and order anywhere in the country.
Recoveries of prohibited firearms made by the Task Force included; two GPMG (General Purpose Machine Guns), 114 AK47 Rifles, eight SMG Rifles, 301 other assorted guns, totalling 425 prohibited weapons.