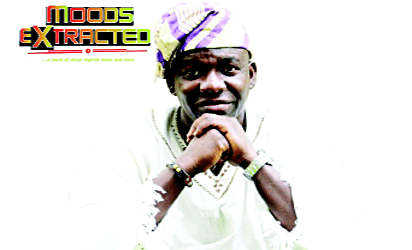 Ade Adebajo
By Prisca Sam-Duru
 Medical Doctor-turned- singer, Ade Adebajo a.k.a Poskii's Moods Extracted  is due to hit the Nigerian music scene on the 8th of April, 2018. The five track album which will be launched at Freedom Park, Lagos,  according to the artist,  is a regenerated idea of classic highlife music mixed with funk and more to bring back the fading sounds of most recent decades.
"The thoughts and minds of people who lived these sounds were carefully extracted and mixed with some modern equipment to create heartfelt beats for the mature minds and upcoming generation that would like to know what music sounded like then." Poski explained.
"I can tell you even some of the beats you're hearing nowadays from hip hop artistes are of highlife origin. When you're listening to highlife, you don't really bother about the language. You don't want to know whether it's a Ghanaian or somebody from Senegal or somebody from Eastern or Western Nigeria." The album is an assemblage of five carefully mixed tracks with different but related ideas. E Gbami (Accept Me), Ife Baba Agba (A Song for the Father), Way Home are some of the tracks.
Ife Baba Agba which is honouring the men, features iconic highlife musician, Uncle Jim Solanke.
The 76 year old entertainer, noted that he collaborated with Poskii because  of the decadence of good music in the country. Happy with the songs Uncle Jimi who had earlier sang a similar track titled 'Baba Agba' in the 1980s, said, "As you listen to it, you find that each of the tracks are classic. What they're saying in it are part of the things I would say in an album if I am making one soon." Added to the album is a unity song which Poskii performed with some artists; Wura Samba, Captain Blazee, Olujazz, Edaoto, Aduke and Seun Olota who have regularly performed at freedom park for five years and more.