LIVING with a disabling disease is currently the lot of Mrs Adeola Abigael Ojo (Nee Adedoyin), a  35 years old pharmacist.
A medical report signed by Dr R.A. Olarenwaju, a Consultant Nephrologist at the Lagos State University Teaching Hospital, LASUTH, confirmed Adeola has End Stage Renal Disease (ESRD).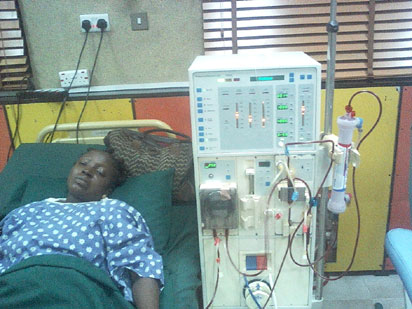 The doctor recommended the permanent remedy is a kidney transplant, estimated to cost  N8,000,000.
Narrating her plight, she said it all began one day in 2013 when she woke up feeling weak all over.
"I thought it was malaria, I never knew my health was deteriorating. Only God has  sustained me todate with  financial support from my aged father who has sold off all his properties just to keep me alive.
Adeola had a daugther when she was diagnosed said: "I was rushed to National Hospital, Abuja in October, 2015. On 3rd April, 2016, my husband drove me and my kid to my parents in Lagos, under the pretext that he was going to  source for money for my treatment but he never returned  till date."
Adeola has been undergoing hemodialysis  at cost of N50,000 per session since 2015 requires the life saving transplant as soon as possible.
A relative has offered to donate the replacement kidney, but the procedure id being delayed by lack of funds.
Adeola and her family are pleading with kind-hearted Nigerians to come to their aid financially. If you are moved to assist/support,  contact  Elder Johnson Adedoyin  on 08037300555. Donations can be sent to Adedoyin Johnson Olatunji, First Bank. Account Numbe: 2002394204