BY JACOB AJOM
Chief Taiwo Ogunjobi is not convinced the Super Eagles are ready yet for the Russia 2018 World Cup. Ogunjobi, one time NFA Secretary General says for a World Cup bound team to be seen and perceived as prepared, they must be psychologically, mentally and physically sound.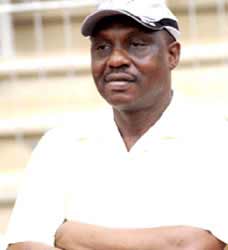 Tactically, they should be near perfect."Ogunjobi was happy to see the Eagles tested against strong European opposition in their last two friendly games. "The two friendly matches were good but the match against Serbia exposed our weaknesses," he started.
"There was no coordination from the goalkeeper to the attack. We were lagging in organisation.""Ogunjobi, a former stalwart of the famous IICC Shooting Stars of Ibadan was, however, not too bothered about the poor performance of the Eagles against Serbia as he believes, the team can pick up and peak before the World Cup.""I am not too worried because friendly matches are supposed to be tune up matches where coaches look at their teams and see where they need to improve before the main tournament.
Whatever happens now cannot be taken too seriously because it is still basically experimental," the experienced football administrator said.""In 2007 we played 7 friendly matches ahead of the France 2008 World Cup. We won 5 and drew 2. When we got to the World Cup proper, it was a different ball game altogether.
But friendlies are good.""From what the friendly games proved, Ogunjobi said coach Gernot Rohr, his technical crew and back room staff still have a lot to do before the World Cup in Russia. "To present a team at the World Cup is no joke. After all the rune up matches you come down to selection of the final squad, which is a very delicate aspect of the preparations. It mostly determines the mood in camp.
"When it gets to the tournament, you will ask yourself: Are the players psychologically prepared? Are they mentally, morally and physically ready? And is the team injury free? You see, as the Eagles are at the moment there so much to fix before the tournament proper," Ogunjobi reasoned.
His biggest concern, however, was the absence of a world class goalkeeper. "I have not been impressed by any of the three goalkeepers in camp. I don't see any of them worthy enough for the big stage like the World Cup. They are not tested and I cannot vouch for their efficacy.
"I don't see any of them worthy enough to be Nigeria's number 1. The coach should be ready to provide a solution to that. He is a professional." Ogunjobi concluded.
Subscribe for latest Videos