Edo State Governor, Mr. Godwin Obaseki, has said the state is concluding the mapping of its land resources to determine areas suitable for large-scale agricultural projects in partnership with private investors to create jobs and produce raw materials for industrial use.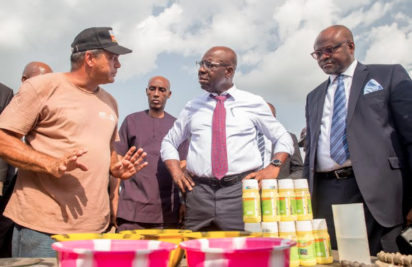 The governor, who disclosed this when he led top government officials on a study visit to Dr. Fregene Cassava Farms, in Abraka, Delta State, said the state will explore the Public Private Partnership (PPP) model to engender inclusive and sustainable agricultural development in the state.
He said, "Part of the strategies to create jobs for youths is to replicate successful agricultural ventures. We will set up ventures like this across local government councils in the state. In the past, governments operated these ventures, but now that we have private investors with capacity to run businesses more efficiently, we will provide support and partner with these investors to drive economic growth and job creation through agribusiness."
Obaseki added, "We intend to adopt a strategy which will encourage private sector investors in agribusiness in the state and strengthen partnerships with all value chain actors to ensure that our agricultural development initiatives are inclusive and sustainable."
Noting that the state was working on a master plan to provide support to smallholder and large-scale farmers, he said, "We are mapping out communities to launch projects similar to Dr. Fregene's Cassava Farm. We have data on 19 million hectares of land in the state. The next step is to carry out land use assessment. The essence is to create jobs and make raw materials available for industrial purposes."
Obaseki said the state will provide necessary support structures to fast-track development of rural communities. "We are building more roads to link farms to markets. We will facilitate provision of power supply to encourage development of processing industries close to farm centres," he said.
General Manager of Dr. Fregene's Farm, Mr. Marcus Cassava, who took the governor and his team on a tour of the farm, explained that good agronomic practice was necessary to get high cassava yield, advising that it was better to engage more hands-on the farm to create jobs for the locals.
Subscribe for latest Videos